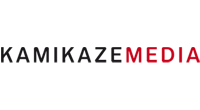 Kamikaze Media AS is a digital and creative agency located in Bergen, Norway.
We combine our experience in web development with motion and design to create high quality solutions for the web and interactive broadcast systems. We offer state of the art design solutions, programming and interface implementations.
The added value we give our customers, is our ability to combine insight and creativity to create highly visible and easily adaptable results for them.
Have a look at our portfolio to view projects within web and mobile development, design and Interactive TV.
Contacts