Find developers and organisations who develop using the SilverStripe platform.
This directory is a service to the SilverStripe community.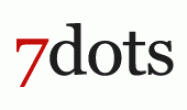 Contact
Tel: +44 (0) 20 8439 1515
Email: ku.oc.stod7@olleh
Address
6 Old London Road
Kingston upon Thames
United Kingdom
7dots Digital
www.7dots.co.uk
7dots was formed in 2009 by co-directors Ed Gossage and Sam Page. Previously, Ed and Sam were colleagues at a respected, full service marketing agency, Base One. During their time there, they managed a number of high profile, award winning projects in their positions of Head of Technical Services and Senior Project Manager respectively.
7dots is a digital consultancy which works on both a project and consultancy basis with its clients. We are a "network agency" which puts project management firmly at the heart of projects. We've built a trusted network of experienced web professionals spanning all of the required disciplines; some are independent freelancers, some are specialist development or design companies. Whilst, we're constantly expanding our network, the majority comprises people we've established successful relationships with over a number of years.
The key differentiator with a traditional agency is that we're not limited to the skills of an in-house design and programming team – we'll hand pick the right resource for your project.
With more than 20 years' digital experience between them, Sam and Ed have worked for clients (from SMEs to blue chips) across a wide range of industries – commercial, financial, software, energy, trade unions, charities, technology, automotive, manufacturing, recruitment, marketing.
Browse by
Want to work with the makers of SilverStripe software? Contact us