Find developers and organisations who develop using the SilverStripe platform.
This directory is a service to the SilverStripe community.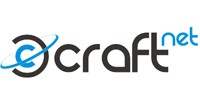 Contact
501-222-984
Email: lp.tentfarc@tkatnok
Address
Ciołkowskiego 11a/2
Łódź
Poland
Services
Complete website development, e-commerce, E-Commerce Development, Graphic design, SEO, SEO services, SilverStripe CMS, SilverStripe CMS integration, Websites
Craftnet
www.craftnet.pl
Craftnet Effective Web Solutions is the future of pages and websites. Individual approach, combining an original graphic creations of modern technology distinguishes us from the competition. Created by Craftnet websites are characterized by high usability and functionality, we rely on the interaction and functionality, we build tools to better meet the needs and expectations, positioning the brand, strengthen the image. Past experience and creativity of each member of our team provides timely and professional execution of our tasks. This provides our clients increase sales and brand recognition. For many years craftnet developing and working on the most convenient and modern improvements in our networking software, as well as business outsourcing-this. Many of our clients have trusted us with many areas of the economy. The existence of your company on the internet and offer a presentation by visual advertising is our specialty.
Browse by
Want to work with the makers of SilverStripe software? Contact us