Find developers and organisations who develop using the SilverStripe platform.
This directory is a service to the SilverStripe community.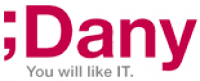 Contact
+387 35 694 218
Email: ab.ynad@rimad
Address
Hasana Kikica 5
Srebrenik
Bosnia and Herzegovina
Dany
www.dany.ba
We've been in web developing business for 10 years. Our company is developing almost entirely with SilverStripe. Our primary activity is to outsource business-to-business projects.

Our team counts at the moment 4 senior level programmers and 2 freelancers, able to finish any kind of SilverStripe projects. We have done traditional portfolio sites, web shops, portals, blogs, combination of SilverStripe with other web tools (SilverStripe + MailChimp, SilverStripe + xt:commerce, SilverStripe + Magento.

Our current partners are from Austria, Germany, Netherlands, Belgium and Australia.
Browse by
Want to work with the makers of SilverStripe software? Contact us