Find developers and organisations who develop using the SilverStripe platform.
This directory is a service to the SilverStripe community.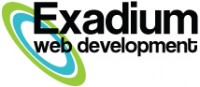 Contact
+44(0)14466 20 436
+44(0)75 25 499 234
Email: moc.muidaxe@ofni
Address
10 Stradling Place
Llantwit Major
Between Cardiff and Swansea
United Kingdom
Services
Complete website development, Custom web development, e-commerce, E-Commerce Development, e-Commerce solutions, E-Commerce Websites, online marketing, search engine optimisation, SilverStripe web development, web design, Web design and development, web dev, web developer, web development
Exadium Web Development
www.exadium.com
Complete SilverStripe web development service from design to CMS implementation.
I've developed a range of open source SilverStripe Modules and Widgets that are applied to most of the website I create. This speeds up the development. All website are implemented with Search Engine Optimisation and usability in mind. See my community showcase listings for a selection of the SilverStripe website's I've created.
For an overview of my SilverStripe modules see http://www.exadium.com/tools/silverstripe/ or https://github.com/marijnkampf
Browse by
Want to work with the makers of SilverStripe software? Contact us