Find developers and organisations who develop using the SilverStripe platform.
This directory is a service to the SilverStripe community.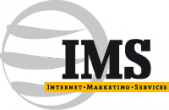 Contact
+49 (0)5722 8900 500
Email: ed.smi@ofni
Address
Nordstraße 17
Bückeburg
Germany
Services
b2b websites, concept and consulting, custom web applications, eCommerce Solutions with our silverstripe shop ext, Hosting and dedicated SilverStripe Hosting, integration of third party software via xml and we, SEM - search engine optimisation and online market, SEO, webdesign and interface design
Internet Marketing Services GmbH
www.ims.de
Internet Marketing Services – making websites work for the customer of our customer! That is our credo in short terms. Since 1995 we have stood for conception, layout, programming, hosting and online marketing of individual and effective websites and ecommerce solutions for customers throughout Germany. We started to build web applications using the SilverStripe framework in 2007. Now SilverStripe has become our most important tool to develop customer web sites and services. More than one hundred live websites based on SilverStripe and a dedicated and optimised server architecture are proof on its own. We have extended SilverStripe with a large pool of extensions and add ons and can develop individual modules based on the customers special needs fast and qualified.
Browse by
Want to work with the makers of SilverStripe software? Contact us