Find developers and organisations who develop using the SilverStripe platform.
This directory is a service to the SilverStripe community.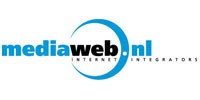 Contact
+31 (0)71 7504000
Email: ln.bewaidem@ofni
Address
Losplaatsweg 24-26
Noordwijk
Netherlands
Mediaweb
www.mediaweb.nl
At Mediaweb we help our clients reach their business objectives using the Internet. Objectives like "build the best wine webshop of the Netherlands", which resulted in grapedistrict.nl, awarded best wine webshop of the Netherlands in 2010 and 2011. Or: "build a website for the domain sneeuwhoogte.nl and make it the market leader in the Netherlands", which resulted in a website that, with over 1.5 million visitors per season, has become the absolute market leader in wintersports related websites in the Netherlands. Or: "the conversion rate of our website has to improve at least 10% within 3 months", which resulted in an optimisation round for NTI.nl that improved conversions by 30%.
For many of our solutions, we trust in the superior Silverstripe CMS. We love to develop websites in Silverstripe, and our clients love to work with this very user friendly CMS.
We like to help you, so if you have any questions on how to achieve your business objectives on the Internet, please don't hesitate to contact us!
Browse by
Want to work with the makers of SilverStripe software? Contact us