SIXTY
Bergen, Hordaland, Norway
---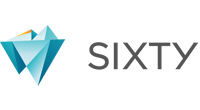 Sixty is a TV experience company with clients worldwide. We make TV look great and feel right on any screen.
The best websites are intuitive and easy to use. The internet audience is by nature impatient and they will leave a site in a flash if they do not find what they are after. The web page is the first port of call for most companies and it could be an extremely powerful communication tool. There is only one first impression.

STRATEGY
Before you can build a house you need to know how it should look on paper. It's the same with websites. With a clear vision, a goal and a clear strategy, it's easier for both you as a customer and our webdesigners to create the best results.

DESIGN
We are constantly up to date with the latest design principles. The web moves incredibly fast, and it is important for us to deliver web sites that fit the mold of the future, not the present.

DEVELOPMENT
Sixty's developers and designers are on the same team. This means that our developers are a part of the design process and care about the details. By following the project from start to finish, our developers are able to develop a web application that solves your problems, and not generate new ones.
Contact SIXTY
Email: on.ytxis@olleh
Bergen
Hordaland, Norway

C Sundts gate 37
Bergen, Hordaland 5004
Norway
Craig Munro Morton
International Sales Manager