Sitetools Ltd
Napier, Hawke's Bay, New Zealand
---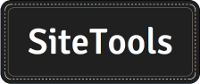 Sitetools provide a complete website solution from strategy and design to development. We also provide a freelance development service where we develop a custom solution using SilverStripe.
Sitetools can provide a full range of website services, our core services are design and development but we can provide copywriting and search engine marketing.
We provide custom solutions that remain intuitive and simple to maintain and update.
We take pride in giving our clients the best possible service in a friendly and efficient manner.
Website hosting
Email hosting
Web strategy
Web design
Web development
Customised CMS solution
Common sense approach
Contact Sitetools Ltd
Email: zn.oc.slootetis@nibor
Napier
Hawke's Bay, New Zealand

17 Lichfield Crescent
Napier, Hawke's Bay 4112
New Zealand
+64 (0)22 169 8489