Firebrand
Dunedin, Otago, New Zealand
---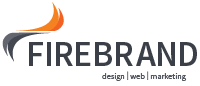 We at Firebrand are passionate about our craft, clients and offering full design, web and marketing services. Our client relationships are at the heart of all we do, we don't build solutions and walk away; we make ourselves available at anytime for support, to help maximise your solutions. While our list of services is extensive, if what you think you need isn't evident give us a shout – you never know who we can connect you with.
Branding
We specialise in refreshing current brands to create modern appeal and creating entirely new identities including naming. Our proven processes result in brands that engage, inspire and connect.
Website Design
Creating beautiful, functional and intuitive websites is what we love to do. Every project starts with a thorough scoping and conversation about what your shiny new web presence should achieve.
Website development, web app dev. and mobile app dev.
There are times when you just don't fit into a box or maybe you just don't want to, you want something special, unique and "yours". Our delivery of custom developed solutions is only limited by your imagination and requirements - anything is possible neatly wrapped up by our full provision of both Functional Design and Development Specifications for Waterfall projects or the alternative Agile Methodology.
Ecommerce
Our team brings extensive experience in designing and developing e Commerce solutions – from small and boutique to instantly recognisable brands. Coupling outstanding project management with user-centric design, we build scalable eCommerce solutions geared to drive sales, streamline fulfilment and grow brands.
Graphic design and marketing collateral
Designing marketing collateral high on visual impact while driving a response is a speciality. Combining design experience, creativity and out of the box thinking, we can evaluate your ideas and execute complete collateral or brand campaigns.
Marketing, advertising and social media
We are able to deliver everything you need in the way of marketing, in house. Designing and implementing campaigns from start to finish – strategy, schedules, design, campaign creation, implementation, monitoring and reporting. We create multi channel campaigns leveraging Social Media, Pay Per Click, Radio, Print, Search and Web using advanced targeting to generate a return on investment.
Cloud and hosting services
Our highly regarded hosting services are fully optimised to provide high performance, scalability and reliability in a fully secure and redundancy guaranteed service. We are Authorised Google resellers - and our clients enjoy the option of having all their digital requirements in one place - with one point of contact.
Contact Firebrand
Email: zn.dnarberif@olleh
Dunedin
Otago, New Zealand

4 Dowling Street
Dunedin, Otago 9016
New Zealand
PHONE
+64 3 477 FIRE (+64 3 477 3473)

SKYPE
firebrandhq

PHYSICAL ADDRESS
Firebrand
4 Dowling Street
Dunedin
9016

POSTAL ADDRESS
Firebrand Holdings Limited
PO Box 5429
Dunedin
9016