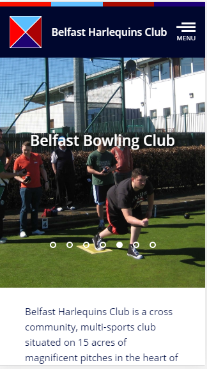 Overview
A comprehensive project to develop a front facing site for a large sports club based in Belfast, Northern Ireland. There were requirements to provide an easy to use CMS, that provided levels of access control, as well as a members only section.
The Project
The Belfast Harlequins wished to amalgamate their existing online presence, which was split over a variety of sites for each club (Rugby, Hockey....) into one centralised place. The project required that the UI was flexible enough to allow the components on the Team and Club pages to be optional, which still maintaining a good design look and feel.
Clients
SilverStripe allowed me to generate the tools needed to piece together the site quickly and comfortably while providing the clients with a simple and easy to use interface to keep their content up to date. For them, it allowed the upkeep of the content to be passed out to those members who were involved with the teams and activities.
"James of Signum-IT was joy to work with because he always used language a non-techie, like I am, could understand. His written reports were succinct and timely. Our new website was well-received by all our sporting sections because it is easy for them to keep up-to-date when they remember! Our club is used over 80,000 times each year so we needed a specially designed website which is easy to use. Signum-IT delivered."
Alan Mckelvey, President of Belfast Harlequins 2015-2016
Challenges
While there were a few road blocks during the development I found that SilverStripe was flexible and extendable. One problem I encountered was implementing a Stripe payment form for the clubs subsidies as the existing modules didn't seem to work as intended. I'm still on the look out for another way to implement the payment model to ensure that the site is at it's best always.
Launched

7 September 2016