Greater Wellington Regional Council - Metlink
---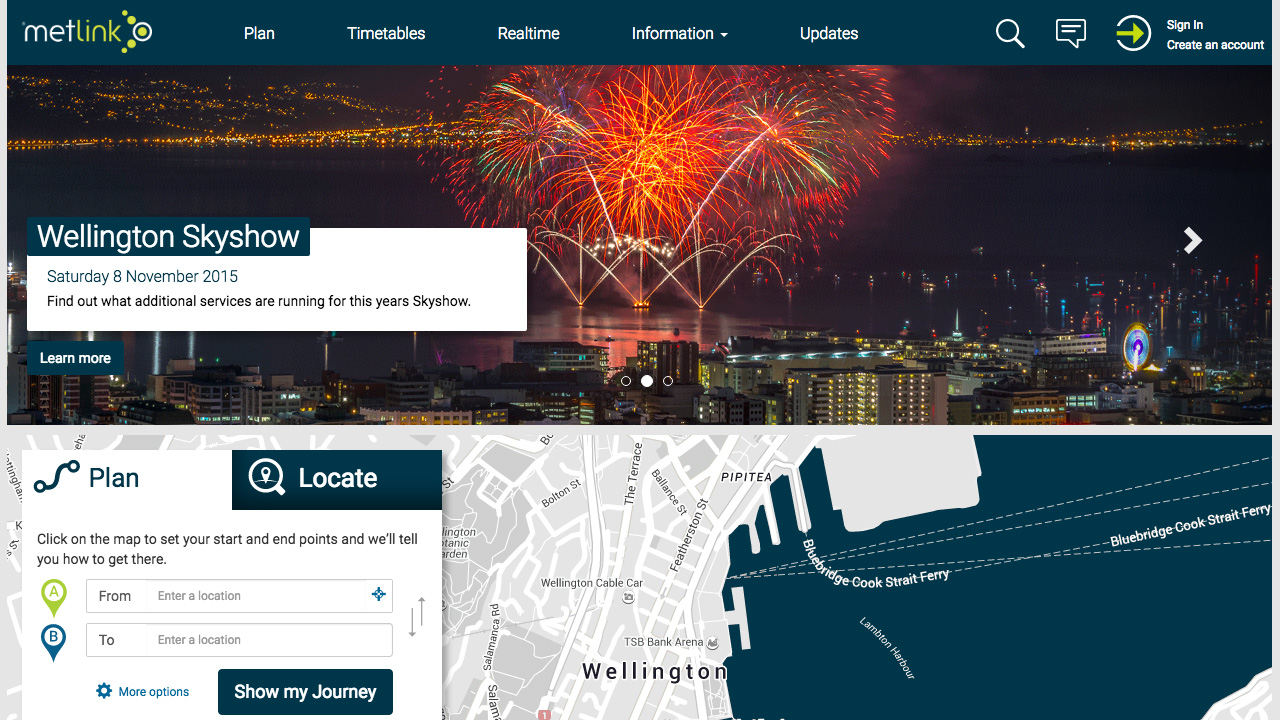 Featured
May, 2016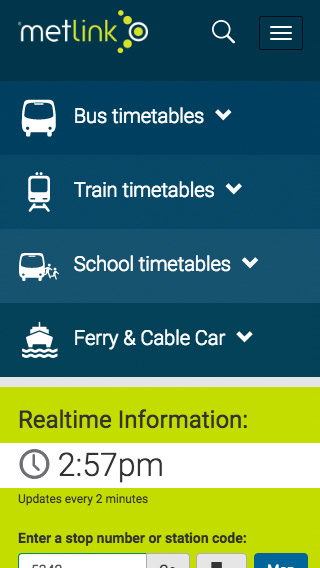 Somar has reshaped the Wellington public transport experience to keep our region moving.
Background

 
Metlink, as part of the Greater Wellington Regional Council, is the Wellington region's public transport network of bus, train and harbour ferry services. They oversee four rail lines, over 100 bus routes, more than 200 school bus services, and four harbour ferry stops.
The Challenge
Metlink required an all-new responsive website to help the hundreds of thousands of commuters find public transport information, such as timetables and dynamic journey plans, quickly and easily.
Somar's Solution
We identified that most users visiting the Metlink site, do so on a mobile device, often while at bus stops or on the move, so we focused on delivering a great experience to a small screen. The site's extensive functionality, such as being able to track vehicles in real-time and select from hundreds of timetables, utilised Somar's expertise in UX design which was backed up with external usability testing to ensure a great end product.
Somar's development team engineered advanced modules using the SilverStripe content management framework to deliver the website's innovative functionality, integrating numerous API's including Google Maps and third-party real-time data and journey planner results.
The Benefits
Users of the Wellington public transport network now have the ability to see the location of vehicles, and upcoming departures to better time their trips. An advanced journey planner also allows users to plan the best route in advance. Additional systems like auto-suggest and smart search results means the website delivers the data that customers are looking for.
Measures of Success
Over 10,000 people rely on the Metlink website every day. The site caters for the heavy traffic loads, especially during peak rush hours and in the case of emergencies such as an earthquake or severe storm. The site has also had zero downtime since it launched.
Greater Wellington Regional Council has received extremely positive feedback to date with 94% of users surveyed preferring the new website over the previous site.
"Somar has taken a fresh look at a public transport website. When compared with equivalent sites in other cities it delivers an information rich, modern approach with our customers at the forefront.
Somar took a lot of time to understand our customers and the information they need to help them in the daily commute or getting around Wellington on our public transport system. We do feel like they are part of our team.  We have really productive conversations on where to take the website next – with a strong focus on continuous improvement of the customer experience."
Janet Skilton, Senior Marketing Advisor, Greater Wellington Regional Council.
Get in Touch
Contact us on hello@somar.co.nz or call 04 385 1075.