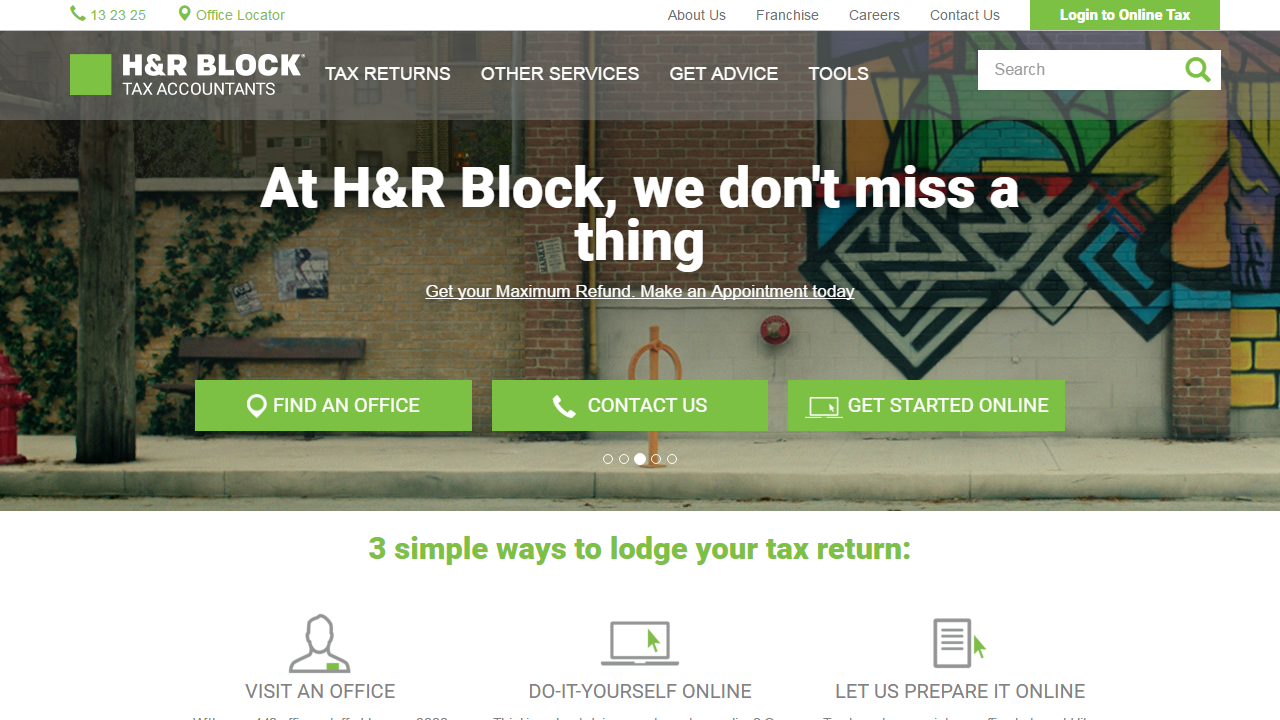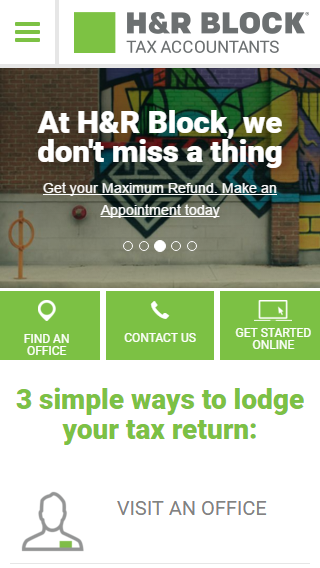 THE BRIEF
Hinterlands is a proud digital partner of H&R Block Australia, having produced websites and online applications for them over many years. It was time for a new attractive, modern and responsive website. Hinterlands was tasked with producing the new site on a brand new robust Content Management System. It was crucial the new platform allowed staff to easily update content and provide page level control over components and templates. Search engine optimisation was also critical to the business, ensuring that customers Australia wide are able to easily locate their nearest H&R Block office and find valuable up to date tax advise.
PRODUCTION
Hinterlands collaborated with Razorfish on the branding and visual design employing a user-centred design approach. Each interactive component was carefully designed to produce a intuitive user experience. Building with Bootstrap, a powerful front-end responsive framework, ensured that all content is displayed at its absolute best across desktop, mobile and touchscreen devices.
SILVERSTRIPE
The website backend is built entirely on Silverstripe and was chosen due to its, robust foundation, easy of use and future proof scalability. The website includes complex interactive systems such as an Office Locator utilising external services such as Google Maps and Australia Post database, Online Tax Calculators and an Assisted Online Tax Return process.
Silverstripe as a solution allows these type of advanced customisations while ensuring staff can easily maintain all content. H&R Block staff are very happy with the CMS tools and find it very familiar and intuitive.
RESULTS
The latest version of H&R Block's website received a lot of positive feedback from customers. The level of engagement for unique visitors jumped substantially. Over a 6 month period they received a surge in website traffic to the new Office Locator and Assisted Tax Returns, with visitors spending on average 20% more time on-site.