Insuring London
---
Before the internet, forums were like meetups (but without meetup.com!). The City forum has been around for over 50 years and provides a space for London's top insurance executives to come together and discuss matters of social, educational and mutual interest.
Featured
Sep, 2014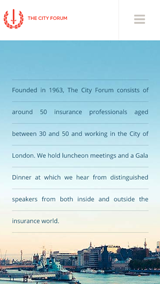 The City Forum was founded in 1963 and is a members club for top rank insurance executives from in and around London. Membership is invitation only and the quarterly events usually have prestigious speakers from a wide variety of sectors.
Having been established for so long and holding such high profile members it was paramount that they had a website to match. They wanted a site that not only made members feel part of something prestigious, but that also attracted high profile speakers. The primary content was focussed around the quarterly events as well as sections showing members and past speakers 
From the moment Steven, our designer, delivered the initial visuals we knew the site would look pretty special, provided we were not limited by the technology we chose to use. The key challenge was ensuring we had complete control over the design while also allowing City Forums administrators full and intuitive control over content.
Enter SilverStripe. The layout was challenging, particularly when building with responsive design, yet at no point did we feel SilverStripe got in the way, allowing us to use front-end tools like Bootstrap, Bower and LESS without a hitch. In fact between the fantastic Object Relational Model (ORM)  and the extensive template tools, SilverStripe proved the perfect tool for delivering a design heavy site like this quickly and efficiently.
This site was certainly not as technically complex as many of the other sites we have used SilverStripe for (like Mindfully.so for example), yet it shows just how versatile it really is, the framework is there to extend when you need to, but for simple sites it all there ready to make you look good to your clients.