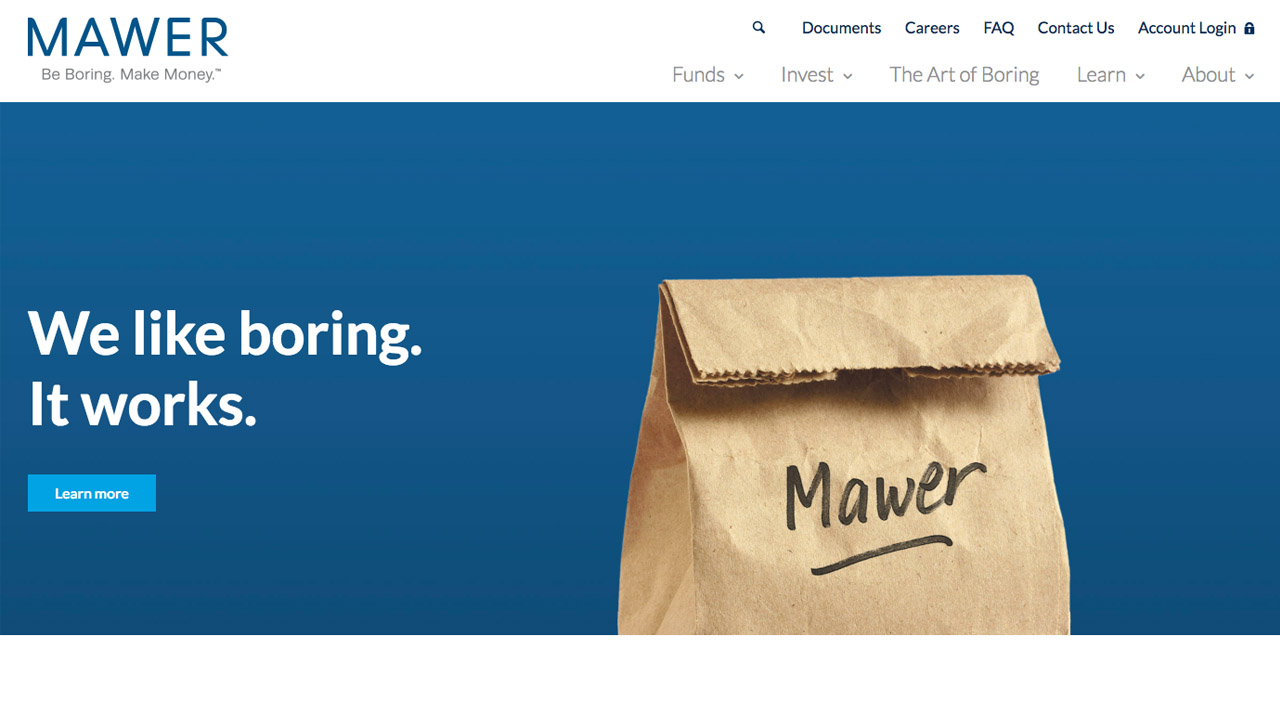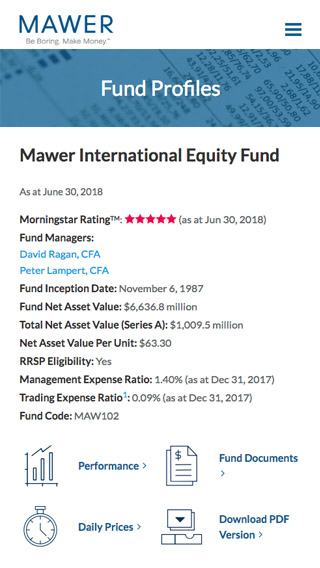 Background
For over 40 years, Mawer Investment Management Ltd. has managed billions in assets for individual and institutional investors using their self-proclaimed "boring" investment approach. Since the beginning, their mission has been to "deliver long-term investment excellence" through strong partnerships and their constant commitment to do the right thing for their clients.
The Challenge
Mawer's existing SilverStripe site was not very well customized to Mawer's specific content requirements, this was causing a lot of undue effort to maintain the site. In particular a number of pages with complex layouts were being managed by hand using the rich-text WYSIWYG editor, requiring painstaking manual effort to maintain site consistency. For example, both Fund Detail pages (http://mawer.com/funds/explore-funds/international-equity-fund/) and the Explore Funds summary table (http://mawer.com/funds/explore-funds/) previously had to be managed by hand using just the WYSIWYG editor.

They came to Evans Hunt with a unique ask: to completely overhaul the CMS backend while retaining their current frontend. In addition, we also needed to import their Wordpress blog and bring everything under one roof.
Evans Hunt's Solution
We approached the backend rebuild with a strong focus on consistency, ease-of-use, and eliminating redundant content entry. Our efforts were guided by a spreadsheet of "pain points" provided by Mawer. The new site features custom content structuring specific to Mawer's exact needs - users enter data in discrete fields and pages are automatically laid out for them. Attention was given to streamlining WYSIWYG styles and consistent typography, and an improved block system was implemented, giving editors much greater flexibility in page construction.

Additionally, work was done on full versioning of pages (including related DataObjects), and consistent folder locations for saved files. This resulted in work on two modules: a fork of Publish With Me (https://github.com/bcairns/silverstripe-publishwithme) that fixed a number of issues, and HTML Editor Folder (https://github.com/bcairns/silverstripe-htmleditorfolder), a new module that allows developers to specify folders used in the WYSIWYG editor for uploaded files.

Custom import tasks were written to import all Wordpress content from artofboring.com, including taxonomy and images.
The Benefits
With a new streamlined backend that is exponentially easier to manage, the team at Mawer is equipped to be as agile as possible. Their Wordpress blog, The Art of Boring, has also been consolidated within the main site, allowing users to easily access content and explore funds all in one place.

"On behalf of the team at Mawer, I wanted to say thanks for everything your team did to facilitate the smooth launch of the refreshed website. We've had some great feedback from our team and our clients regarding the site!"