Metten Stein+Design
---
Responsive Relaunch in 4 Languages, Website Evolution from Silverstripe 2.3, 2.4 and now 3.1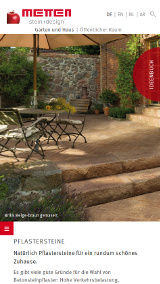 Metten Stein+Design is a german family business in the high quality concrete block sector.
We started developing the Metten website in Silverstripe 2.3 in 2009 together with dospuntocero, launched in 2010 with 3 languages (german, english, dutch) and already a lot of complex functionality.
The development never slowed down, many layout evolution steps, every few weeks some new piece of functionality, frontend or backend improvement, Update to 2.4, new language: Arabic, and finally in 2014/15 the big leap to SilverStripe 3.1 and a Responsive Design, while still keeping many basics from the beginning...