Nomadic Star is a global entertainment company specializing in music, artist/songwriter management, event planning and creative consulting. The firm was founded in 2005 with a primary focus on the emerging African entertainment industry that in recent years has seen tremendous growth. The music industry in the last decade has seen a major paradigm in its business model. The companies of the future that will prosper are those that are lean, creative, self sufficient with a focus on providing quality material to the people that engages them. Nomadic Star at its very core represents that with an in house team of producers, songwriters, artists, sound engineers, graphic artists, creative directors and our own video production studio all working in synergy. Our vision as a company is to always innovate and push forward the boundaries of creativity. We are a team of passionate people, who love what we do, and believe what we do makes a difference. This is one of the reasons why Nomadic Star Foundation was launched in 2008, with the aim of focusing on projects in the East-African region with a clear focus on micro-financing and entrepreneurship, as well as harnessing the power of education. The future of Africa will be its youth, and Nomadic Star as a company is committed to playing our role alongside others to ensure we provide opportunities for tomorrows generation of young Africans. Our offices are based in New Hampshire, USA and Nairobi, Kenya.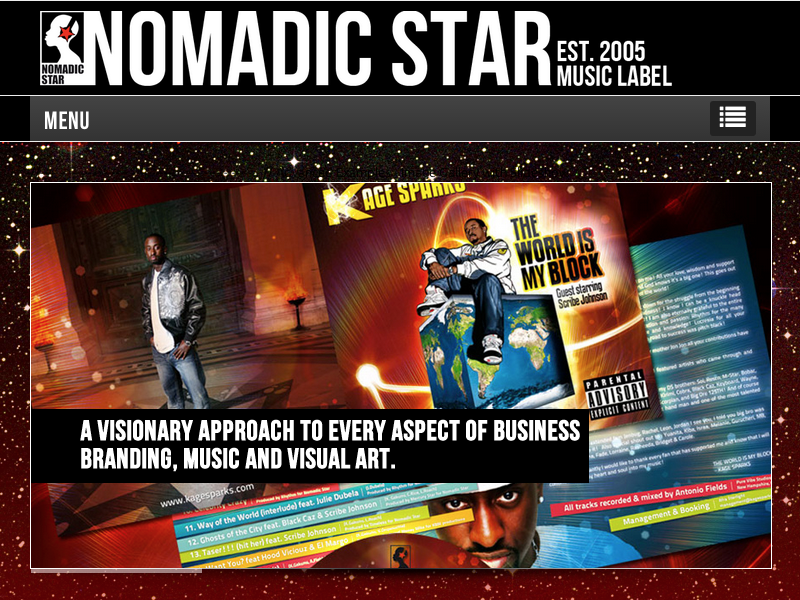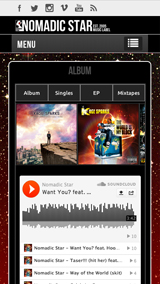 The website showcases the work of Nomadic Star LLC who is composed of international artists and their creative team.
Silverstripe is used as a CMS and Framework, we have built a dynamic menu bar that shows the pictures of artists directly in the menu as well as a custom audio player and video player with a slide bar composed of cover album and video thumbnails. The key challenge was the fact that we never worked on SilverStripe but had a timeframe of 5 days. In the end we easily coded everything inside SilverStripe and the workflow has been flawless. The site is fully responsive.
The backend is meant to be used by non-coder users so everything in the backend is done to be easy to use and understand. Functionnalities like adding soundcloud tracks and albums, upload covers and vimeo/youtube link with ease. Links to Social Media platform for each artist is stored in the database as well as all the other data.
The client now has a base up to date and will add himself the new tracks, albums, covers, artists and articles. Some few revision will be done after feedbacks.
Digitweaks
Launched

20 September 2014