Partnering with ArnoldVuga+ we launched new website for SIJ group - Slovenian Steel Group. SIJ group is the largest producer of steel in Slovenia and one of the top producer of specialised alloys and steel in Europe. Their branches are all over the globe. SIJ was a collection of companies, each with their own dated website. SIJ.si got rid of the fractured nature of the group, established an uniformed look and usability and also new central administration.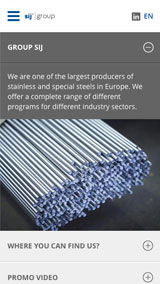 ArnoldVuga+ took care of the visual identity and design. We covered the responsive website. We've joined multiple websites under one CMS and enabled editing of the whole content across the different companies and branches.

Client can now edit all the different modules (galleries, news, contact cards, magazines...etc) on one place. Content duplication is removed. Every branch or company must have its own unique content. Subsite plugin had a great role in solving this challenge.

Content control is taken care of multilevel access. Every user gets a dedicated access to the part of the content and settings.
Website is available in multiple languages including Russian Cyrillic, because of the international status SIJ has.
Contact submissions are accessible inside the CMS so they don't get lost among the emails and email clients.
Silver Stripe made our lives easier when we implemented all the administration, language selection and other mainstay functionalities.