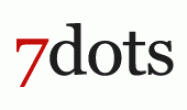 7dots is a digital consultancy providing a range of online products and services to both individual companies and marketing agencies. We are project management focused and pride ourselves in our ability to make your digital projects run on time, on budget and to the precise specification your company needs.
7dots was formed in 2009 by co-directors Ed Gossage and Sam Page. Previously, Ed and Sam were colleagues at a respected, full service marketing agency, Base One. During their time there, they managed a number of high profile, award winning projects in their positions of Head of Technical Services and Senior Project Manager respectively.
7dots is a digital consultancy which works on both a project and consultancy basis with its clients. We are a "network agency" which puts project management firmly at the heart of projects. We've built a trusted network of experienced web professionals spanning all of the required disciplines; some are independent freelancers, some are specialist development or design companies. Whilst, we're constantly expanding our network, the majority comprises people we've established successful relationships with over a number of years.
The key differentiator with a traditional agency is that we're not limited to the skills of an in-house design and programming team – we'll hand pick the right resource for your project.
With more than 20 years' digital experience between them, Sam and Ed have worked for clients (from SMEs to blue chips) across a wide range of industries – commercial, financial, software, energy, trade unions, charities, technology, automotive, manufacturing, recruitment, marketing.
Services provided
CMS Help,
Consulting,
Content Migration,
Data,
Databases / Integration,
Design & User Experience,
E-commerce,
Hosting & Infrastructure,
Performance,
Project Management,
Responsive Web Design,
Strategy / Business analysis,
Web Accessibility,
Web Development
Contacts