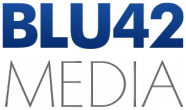 BLU42 Media offers clean website design, effective SEO, and strategic social media marketing. We enjoy building long-term relationships with our clients.
Why Choose Us?
At BLU42 Media we promote in clean design.  We believe that your website's theme and message should be in harmony with your brand.
When we take on a new project we like to spend a good amount of time in the planning stage to make sure all bases are covered.  We go over goals for the site, what's working and what isn't, new site features, and for existing sites, the impact on search rankings.
What We Offer
Standard & Responsive Web Design
eCommerce
Search Engine Optimization (SEO)
Social Media Marketing
Web & Email Hosting
Services provided
Design & User Experience,
E-commerce,
Marketing,
SEO / Analytics
Contacts