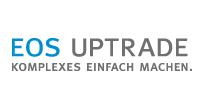 EOS UPTRADE specialises in designing and developing practical solutions to complex problems. Based in Hamburg, Germany, we create websites and innovative web-based applications as well as our own web-based products and software solutions. We offer support and hosting, editing and SEO for clients in Germany, Switzerland, and Austria. A full service agency with high standards.
EOS UPTRADE
EOS UPTRADE is a full service internet agency located in Hamburg, Germany, with more than 35 employees. We create individual websites for a large variety of clients and are the only certified partner of SilverStripe in Germany.

Here is what we do in particular:
Software solutions
Software solutions have been our key competence for several years now and we distinguish between individual and our standard solutions, such as TICKeos (E-Ticketing), HReos (E-Recruiting) and Sharefolder (File Sharing). Any software required, we can easily develop, offer, amend and host. We apply high standards and creative ideas and our clients receive their products from a single source.
TICKeos
The top-selling products on the internet are public transport tickets so travelling and train services are the most prosperous business within online shopping. This is where our TICKeos comes in as it was designed to precisely fit the needs of transport companies. The base is an online ticket shop that consists of modules that can be added as needed. No matter how big the company, TICKeos is always a suitable solution because of its flexible modular structure.
HReos
A well organised e-recruiting- software saves money and time. With HReos, companies can manage and publish their job advertisements on their own websites and on job websites such as monster.com and stepstone.com. HReos users define their selection criteria and the software uses it to sort all incoming applications in a smart and time saving way. Furthermore, HReos helps you to organise and classify advertisements, applications and messages from and to applicants.
File Sharing
Our file sharing solution Sharefolder simplifies the data exchange for advertising agencies, production companies and other businesses that deal with huge media files. With the help of Sharefolder, big amounts of data can easily be sorted, displayed in clear galleries and made available for anyone on the internet. This accounts for photos, videos and audio files. To share data, an encrypted URL that gets created automatically can be send to the recipient. There are no passwords or registration processes needed - as simple as that.
SEO
Unique and relevant site content is very important for you search engine placement (Google ranking). It goes without saying, that it is not sufficient to update your websites regularly. Search Engine Optimisation includes URL structures, keywords in teasers, navigation and header, clever captions and a lot more. Let good services, nice pictures and attractive products be the start of a promising (online) business - there is a lot more to a success story.
iPhone
Applications for iPhones become more and more popular. We develop different applications that consumers can download from the App Store and B2B solutions such as our Sharefolder App that can be used on the go.
Hosting
Most hosting solutions are either secure or flexible. As our servers match with our preferred content management systems in an excellent way, we can easily modify your websites without endangering performance or availability. That is how we guarantee the stability, flexibility, security and speed your project needs.
Services provided
Marketing,
Mobile apps,
Web Development
Contacts