Helping the world DriveSafe in New Zealand
by TimeZoneOne
---
DriveSafe is a new initiative from the Tourism Industry Association of New Zealand (TIANZ) and Safer Journeys, promoting safe driving practices for international visitors planning self-drive holidays in New Zealand.
Featured
Jun, 2015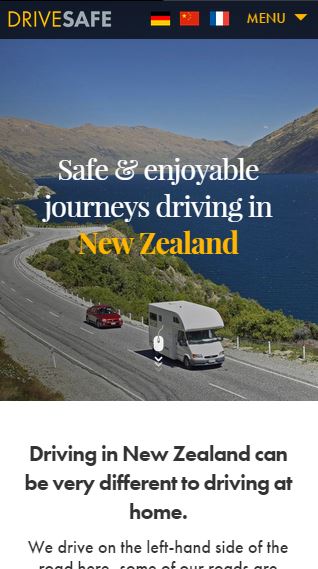 The Brief
We do our best work when we have the opportunity to collaborate on a project as a partner. In the case of DriveSafe we took the lead by creating the project briefing, writing all of the copy, delivering on the design and development, and seeing all content optimised and implemented. The key focus was on highlighting and clearly explaining what's different about driving in New Zealand, and offering clear and concise information about Kiwi road rules and signs, and tips for planning a safe journey.
The Concept
The concept guides international visitors through the entire process of their journey; from the planning stages, to their arrival in New Zealand, to being on the road. Key safety messages are reiterated throughout, in simple terms to engage travellers for whom English is not their first language. Dedicated translation pages are also available, including simplified Chinese, German and French.
Our goal was to build an engaging and functional website for international visitors that was easy to navigate, provided clear key messages, and offered access to useful resources for more information.
The Design
The website design is functional and informational, but also inspirational – featuring a magazine-style design, bold, clean design elements, and emotive imagery throughout to reflect the uniqueness of New Zealand self-drive holidays.
The site has been designed for speed, utilising the JavaScript Lazy Load plugin which integrates perfectly with Silverstripe. Lazy Load makes pages load faster by delaying image loading until users scroll to them, and attention-grabbing hero images clearly indicate the content for each section of the site.
There are multiple appealing navigation options to easily guide visitors around the site and through the planning process, and the content is formatted for easy reading, broken down into highly-skimmable and easily digestible chunks so as to not overwhelm users, retain their interest, and ensure key messages are memorable. Graphic elements such as illustrative icons are also used to further clarify key messages, and video content is included for further engagement.
Use of SilverStripe
DriveSafe was built on the SilverStripe CMS, which provided a way for Cabbage Tree to seamlessly connect the client with their content and data in a way that was cost effective, user-friendly, and extensible.
This enabled us to build better user-interfaces and tools for managing their website (and related data) and to do this in a shorter amount of time than other offerings. The flexibility afforded by SilverStripe solutions ensure they adapt well to future improvements, with greater ease than many other platforms.
The Result
We worked closely with TIANZ and project partners to ensure the delivery was in time and on budget. The entire development was done in record time, with briefing and concept development kicking off in mid-December, development taking place during the holiday period, and site launch in mid-January.
SilverStripe's simple and flexible templating and ability to build add-ons and modules further increases opportunities for extending the functionality of the site will facilitate additional features in phase two of development in later months.