Jersey Basketball Association
by Quadra
---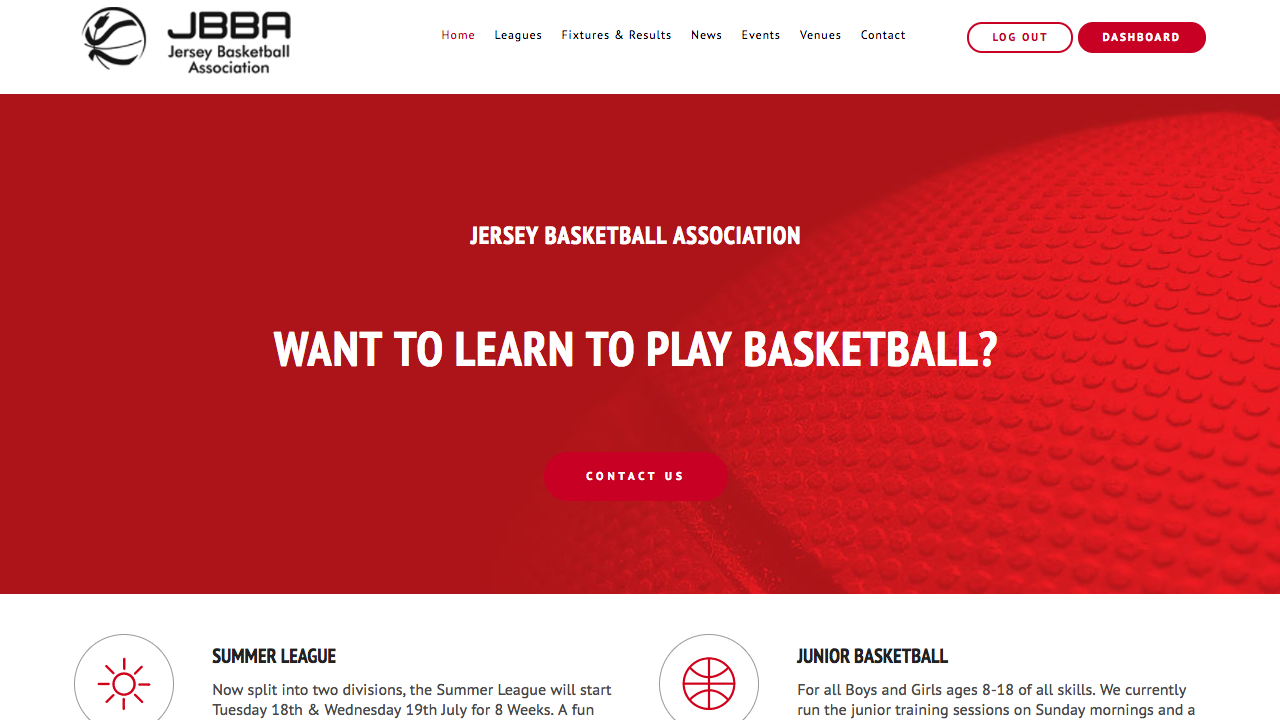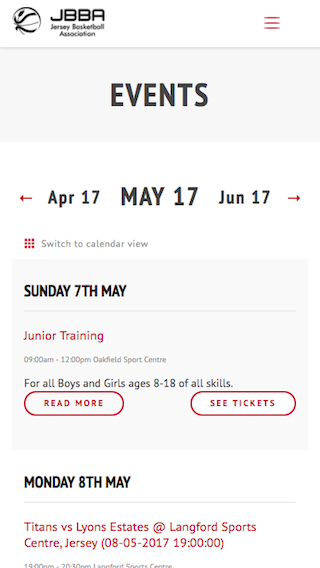 Background
Quadra have been supporting the Jersey Basketball Association, a local non-profit sports organisation through web development and design for many years and have been able to develop outstanding features and SilverStripe modules. Check out these features for email marketing integration, paid members area, team registration, events management, fixtures & results. These features are custom built but can be adapted for any SilverStripe Website.
Members area
Gone with paper registration and reduce your workload by creating an area for members to self-serve. Upon registration, each member will have access to their dashboard where they can:
Complete their personal details, add emergency contact information, add any relevant certification & qualification etc
Upload a profile image
Keep track of all the events they are attending, view & re-print tickets and view historical event attendance
Keep track of payments so they know what have paid & when, request a refund if a payment was made in error
Manage which team they play for, create a new team and invite players to a team
Email marketing integration
Back in 2013, we created a Mailchimp module for SilverStripe using the Mailchimp API. This module integrates mailing lists in both SilverStripe and Mailchimp and creates static segments in Mailchimp when an event is created in SilverStripe and it's been an asset for JBBA's emailing marketing. How does it work?
Syncs subscribers and member's from the website to Mailchimp
Syncs selected member data to Mailchimp such as creation and expiry date
Creates static segments in Mailchimp when an event is created and syncs attendees to the segment
Events management
After debating whether to use Google's Calendar API for this functionality, we decided to build our own calendar and event management pages. For the reasons why, see our blog on events management module for more detail. So, what did we build?
A Calendar View - The standard and most familiar way of listing events over a set time period. Best suited for tablet and larger screen sizes
A List View - Not interested in what day of the week and/or date the event falls on, or are you viewing on a smaller screen, the events listed in chronological order might be best for you
Mini Calendar - used on the JBBA homepage to see what's on at a glance
Recurring events - Create an event once and set how many times or an end date. Suitable for training sessions that happen every week
Saving and exporting events - Using iCal Standard to allow users to save the event to their calendar on any device
Ticketing options & online payment - Events can be free, paid, or discounted for members. Where payment is required we've integrated Paypal to manage online payments and a QR code generated for printed tickets so that you, as the event organiser can validate attendees
Fixtures & results
Leagues, Fixtures & Results; one of the most important modules for JBBA bringing the administration and website to a digital, functional age.
The League module lets you create multiple Leagues or Tournaments which may have multiple divisions within it.
This allows members to register a team associated with the League and Division
Once you have manually created the fixture list, you can create these in the CMS which are shown on the events calendar and users have the ability to save the event as normal
Now that you have a league, a division, teams and dates & time, a fixture list and results table is created on the website
Multiple leagues or tournaments can happen simultaneously with an easy filter functionality to view fixtures and results
CMS administrators can add results and upload a scoresheet which can be viewed by website visitors
Once results have been added, we've also created a standings table with help from the JBBA for the algorithm
Get in touch
to request a demo for any of these features.