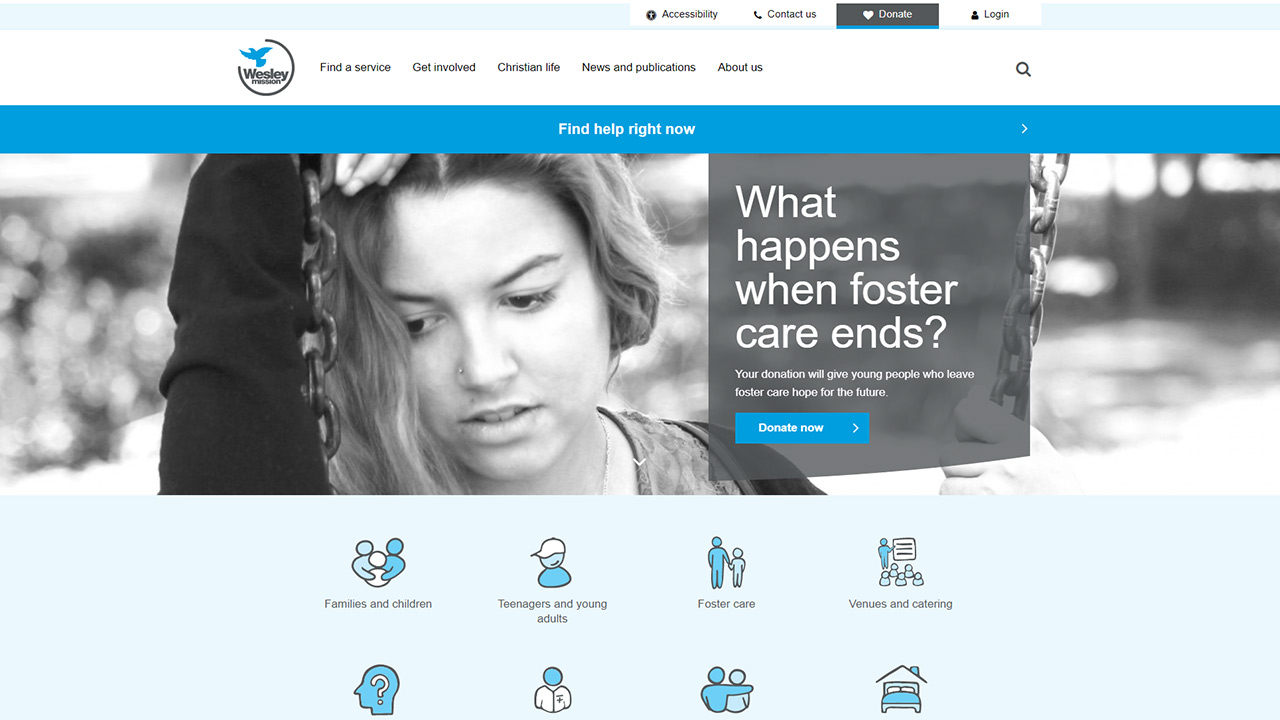 Wesley Mission is a Christian non-profit community service organisation in Australia, with over 130 programs, 2000 staff and 3000 volunteers. With a large website built on the SilverStripe CMS, Wesley Mission sought Internetrix's expertise with web development and the SilverStripe platform in particular to build a new addition to their site, giving users the ability to purchase charity gift cards from the site.
Delighted with the results of this project, Wesley Mission invited Internetrix to complete an ambitious refresh of their entire website in 2017. We have achieved all their website refresh goals, namely:
Provision of rich media and social integration (media section)
Provided user-friendly access to key services and information from any device
Functionality to use or apply different widgets/capabilities to different templates (for example to use in-page locator maps on sub-section, topic and details pages if desired).
Functionality to provide cross-linking and links to external sites/services
Accommodate the varying needs of clients with disabilities and younger and older clients.
Meet WCAG 2.0 Level AA standards for accessibility
Wesley Mission - Intranet
With over 130 programs, 2000 staff and 3000 volunteers Wesley Mission is continuously growing in size. Keeping this in mind, Wesley Mission sought Internetrix's expertise with intranet design, development, and integration for it's growing staff numbers who all had a diverse range of accessibility needs.
Both office staff and field staff needed to be able to access all types of devices at the time they wanted, the place they wanted, and how they wanted.
We achieved all their Intranet Design objectives and requirements goals, namely:
Included key elements of brand (primary branding, curves, logo, fonts)
Met WCAG AA accessibility standards across all factors and meet WCAG AAA accessibility standards in use of colour
Ensured intranet is functional, clear and engaging
Included printable format of pages to allow user-friendly printing from browser
Delighted with the results of this Intranet project, Wesley Mission remains a valued client of Internetrix and we look forward to continuing our relationship with Wesley Mission.