Alpha-Webservice GmbH
Nuernberg, Bayern, Germany
---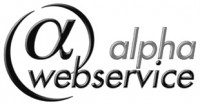 Alpha-Webservice is a player in internet services since 1998. We love challenges and even more we love to have satisfied long term customers. Custom application development in E-Commerce, CMS, CRM and all sorts of gateways/interfaces is our focus. We try to make complicated things easy to use for our customers. Every day business needs reliable support: Alpha-Webservice
Alpha-Webservice is a player in internet services since 1998. We love challenges and even more we love to have satisfied long term customers.
Custom application development in E-Commerce, CMS, CRM and all sorts of gateways/interfaces is our focus.
We try to make complicated things easy to use for our customers.
Every day business needs reliable support: Alpha-Webservice
Contact Alpha-Webservice GmbH
Email: moc.ecivresbew-ahpla@sr
Nuernberg
Bayern, Germany

Untere Dorfstrasse 31
Nuernberg, Bayern 91322
Germany
+49 911 3008716