Solutions First
North Sydney, NSW, Australia
---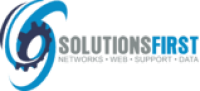 Solutions First is one of Australia's leading Linux and Open Source software providers. Our wide range of experience in many different hardware & software technologies affords many of our customers the luxury of considering us the single source for all of their IT requirements.
Sol1 is an I.T. services and web design group with a focus on pragmatic and high performance solutions for our clients. Established in 1999, we support small business through to large enterprise and NGOs in many capacities. We're based in Sydney, but operate nationwide and internationally. We're a single source for all your technology requirements and we keep things running.
How We Can Help?

We are one of Australia's leading Linux and Open Source software specialists. Actively involved in the community and industry for over 11 years, we were the first company signed to a NSW Government supplier panel for the provision of Linux and Open Source software solutions, the first of its kind in Australia back in 2005. In this regard, Sol1 is often the "backstage talent" for larger consultancies.
Web Development
Solutions First has launched hundreds of websites that are intuitive to use, deliver the primary function and message while looking the biz. We put the effort in at the start to clearly define the project's purpose, audience, timeframe and budget so that expectations are clear. This planning and strategic forethought can save you time, money and effort down the track. Go with a team that is here for the long haul.
We've got people to help you plan, design and code your concept to reality. Throughout your projects, we'll provide valuable advice and feedback from our significant pool of combined knowledge and experience.
With a bevy of talented designers and programmers, we're always working on the next intuitive content management system, integrated e-commerce website, social networking application or punchy short term web-based campaign.
We don't just design and build your web projects, we help plan, create, launch and grow your product, brand or service. Our aim is to build quality partnerships – just ask some of our long standing clients.
Give us a call today to discuss your next web design or development project and please have a flick through our portfolio.
Community showcase listings
---
Contact Solutions First
Email: ua.moc.1los@ofni
North Sydney
NSW, Australia

1 Eden Street
North Sydney, NSW 2060
Australia
+61(2) 9923 2180