BaptistCare
---
BaptistCare is a leading not-for-profit Christian based care organisation that has been serving the aged and people living with disadvantage for 70 years. We support thousands of people across NSW and the ACT through more than 160 facilities and programs.

From humble beginnings in 1944, BaptistCare has grown into one of the nation's most respected care providers, employing more than 4000 staff, with a further 1000 volunteers.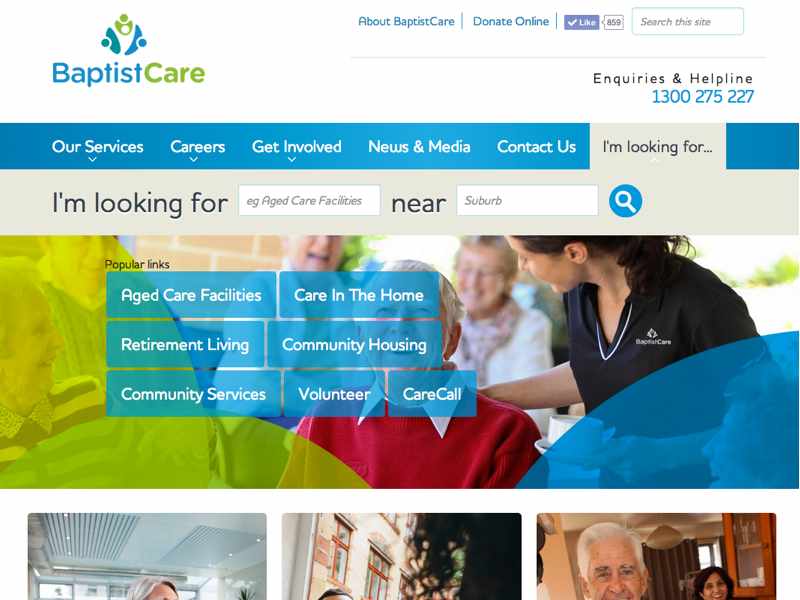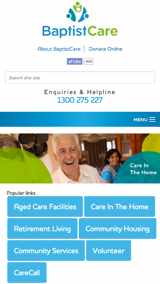 A complex web strategy and Silverstripe website development for a progressive not-for-profit.
Understanding the business sectors was key to cracking this project. With a multitude of different service offerings, all with their own requirements, serving users to the correct information quickly and pushing a conversion put us in seventh heaven - perfect job for Kindleman.

The Baptistcare website is extensive in it's ability to mirror the organisation, taking donation payments, delivering complex shared data structures, integrating mapping and other APIs, and managing complex backend administration aspects.
We continue to work with BC on their search engine optimisation, analytics, conversion and feature design and development.
Digital Strategy
Design Architecture
UX
Website Development
Silverstipe