Gibbston Valley is one of the top wineries down in Queenstown, we recommend heading down there for a tipple or two.
Featured
Apr, 2016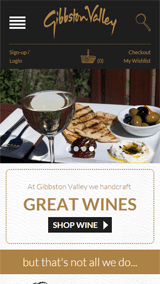 Project summary
Gibbston Valley Winery faced a necessary update to its web presence, through a much-needed redesign and the building of a new back-end system, which would eliminate many frustrations from the previous system.
Client background
The first vines were planted in the early 1080s by Alan Brady. The wine gained considerable recognition, laying down the foundations for many to follow in Central Otago's wine making country.
Our challenges
Web Torque's biggest challenge was the Wine Club. With approximately 5000 members with quarterly shipments of 3, 6 or 12 bottles (there are custom rules that let you get more), the logistics of that process were immense. The shipping matrix alone took a few days to program. At the same time, we thought we would do our first parallax scrolling website, responsive front-end web design, and modular SilverStripe CMS to allow the client to choose what elements go onto a page.
Our solutions
After months and months in the design and prototyping stage, we started to program the backend into SilverStripe, giving the client complete control of every aspect of the web content, e-commerce shop or wine club. Gibbston Valley can change the layouts, shop pricing, discount levels, vouchers, shipping prices, they have control of everything. 
The results
Gibbston Valley was extremely happy with the end result. We continue to work with them on new projects, which will improve their exporting capabilities.
Launched

18 February 2015