Mindfully SilverStripe
---
Guided Meditation is big business these days. This project needed a technology that could provide the flexibility to sell digital downloads through a website and then to deliver those downloads to users in a native mobile app. SilverStripe wasn't the obvious choice, but it turned out to be a great one.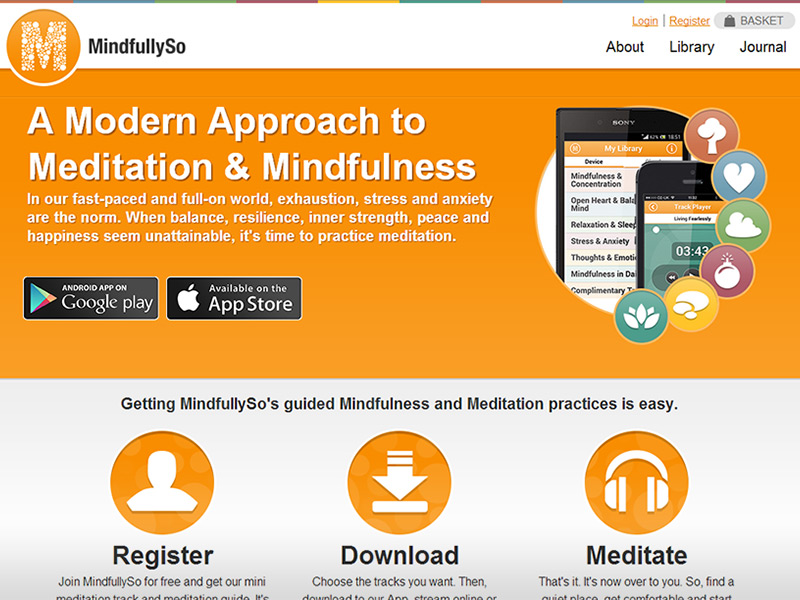 Featured
Sep, 2014
Mindfully.so are authors of guided Meditation audio tracks that use the essence of Buddhist teachings in a modern digital format. They needed a way to deliver these audio tracks to their customers that allowed them to listen whenever they wanted , wherever they were. To achieve this we not only built a website where users can purchase and listen to tracks, but we also built a cross platform mobile app that allows users to download and listen to tracks even when completely disconnected from the internet.
The biggest challenge of the project was finding the right technology to use for each aspect of the project. We needed a central database to store all of the content and a way to get this content into the website and the apps. We also needed to build apps for both iOS and Android that would work equally well on a phone or a tablet. 
SilverStripe was the perfect starting point because it offered everything we needed to run the website, manage all the content and the potential to add a RESTful API that we could use to serve the content into the mobile apps.  
We built the site, the cart and the payment integration without a hitch and after some customisation of colymba's great SilverStripe restfulapi module we had something we could use to populate the apps too. For the Audio tracks themselves we decided to use Amazon S3 to ensure reliable and secure serving using the SilverStripe framework to create a unique token generator for each request.
Now all that was left was to build the apps which could be fed by the website. To do that, we settled on some technologies that were new to us. Adobe Phonegap allows you to take an HTML5 web-app and compile it into a native mobile app that can be distributed on the respective app stores, while Angular JS is a javascript framework specifically for building fast, AJAX web-apps. Combining the two meant we could build an app that felt native, without actually having to learn each devices native language. 
In practice the learning curve was steep and there are definite challenges  to this approach, but ultimately both apps work great and the integration with the SilverStripe website serving the content is completely seamless. Angular JS is a great companion to SilverStripe Framework too,  creating a fast, smooth interface and potentially negating the need for the CMS component entirely.
This project once again re-enforced the flexibility that SilverStripe offers developers and the reason that we use it, and will continue to use it for the majority of our back-end projects.
Feature Overview
The Website
Purchase audio tracks to download or stream
Listen through the website or through the app
Responsive design
Integration with Amazon S3 for storage
The Apps
Developed for both Android and iPhone simultaneously
Download tracks to device for offline listening
Integrates with headphone and lock screen controls
Live content updates from SilverStripe CMS
The Technology
SilverStripe CMS
Adobe Phonegap
SilverStripe RESTFul server
Angular JS
HTML5
Amazon S3