RDA Southern Inland – working towards a sustainable future with SilverStripe
---
Regional Development Australia Southern Inland were looking to replace their aging site built on a proprietary system with a more powerful and flexible CMS, while also switching to a responsive design. SilverStripe came to the rescue, by providing not only an easy-to-use and highly customisable CMS, but also a robust application framework to facilitate the development of a system to accept online 489 Visa Expressions of Interest, and a custom database model to manage grants available for individuals, groups and organisations.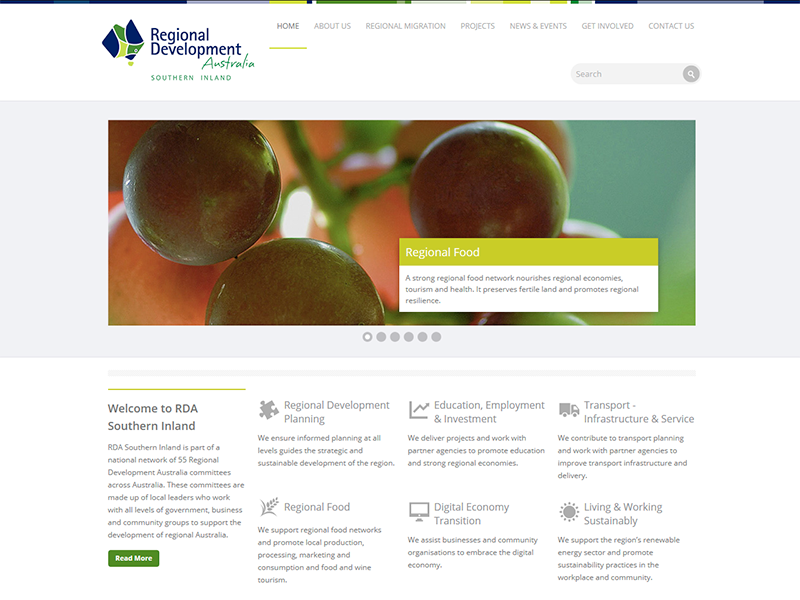 Featured
Sep, 2014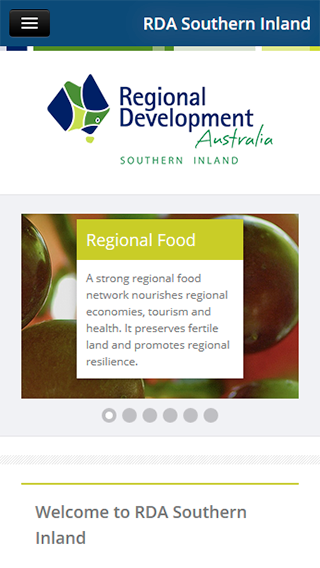 Regional Development Australia is a partnership between the Australian, NSW and Local governments to develop and strengthen the regional communities of Australia. Regional Development Australia Southern Inland (RDA Southern Inland) has a pivotal role in ensuring the sustainability of the region and works with all sectors of the community. The Southern Inland region covers the local government areas stretching from Cowra in the north, to Bombala in the south, close to the border between New South Wales and Victoria.
RDA Southern Inland is a long-time client of Praxis Interactive, with the site originally built using a proprietary framework and CMS. Not long after the first site was completed, Praxis Interactive standardised on using SilverStripe for all new projects. After observing the trends in mobile browsing, RDA Southern Inland began to discuss adopting a responsive design. At this time, we recommended that a design change was also a good opportunity make the switch to a SilverStripe powered site.
After a demonstration of the SilverStripe CMS in action, RDA Southern Inland was convinced that SilverStripe was the correct choice for their redeveloped site. SilverStripe provides many features out of the box that the older proprietary system did not, such as true content versioning and staging, plus a flexible CMS interface that is easily customised. Praxis Interactive designed a new, fresh responsive concept for the site, and applied this responsive design as a SilverStripe theme.
The key challenge of the project was RDA Southern Inland's State Sponsored Migration (489) Visa online Expression of Interest system. A custom module was developed for SilverStripe to build the data model and functionality for the system. Applicants are directed to an online form to enter their details and attach a series of documents necessary to complete the application process.
SilverStripe's ModelAdmin was customised to act as the backend interface for the Expression of Interest system, allowing administrators to search and manage applications, rich text email templates for system-generated responses, email attachments, available occupations, and a full log of sent emails to maintain a paper trail. The powerful SilverStripe ORM and customisable CMS allowed for a working prototype of the system to be up and running within days.
A custom model was also developed to manage the RDA Southern Inland "Grant Support" database, allowing staff to easily create and manage grants available for individuals, groups and organisations. SilverStripe was leveraged to allow manual input of grants in the CMS, along with CSV data file import from Excel, drag-and-drop reordering of grants and categories, and PDF generation of available grants using wkhtmltopdf, for easy printing by applicants.
SilverStripe has proven that it's powerful and easy-to-use CMS is an ideal choice for RDA Southern Inland to manage the content of their site. By also leveraging the application framework SilverStripe provides, custom models and databases have been created quickly and easily, tailored exactly to RDA Southern Inland's specifications.