Cyber-Duck developed a striking website for RSVP, a leading British outbound call centre. By creating fun bespoke photography, the website could reflect their unique business (all staff members are actors!).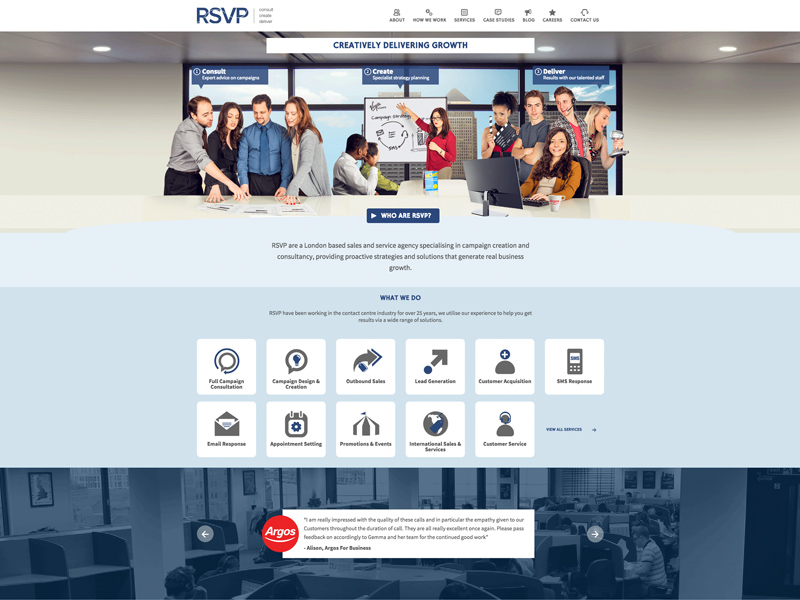 Featured
Oct, 2015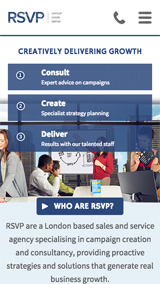 THE BRIEF
Based in the UK, RSVP offer cutting-edge contact centre solutions for clients including Mercedes-Benz, Virgin and Argos. Their unique value proposition point is that all staff members are trained actors, using their polished communication skills to achieve a high-quality service.
When Cyber-Duck was approached to become their digital partner, the brand and website were not representative of their unique value proposition or quality of service. We aimed to create an attractive visual website that would reflect their dynamic staff; a robust CMS was crucial, so their team could keep the content fresh.
OUR PRODUCTION
Applying our unique user-centred approach, meticulous research demonstrated a visual-led design was the best way forward. Bespoke, high-res photography was created to convey how RSVP's dynamic, charismatic team could add value for their clients. 
Building with Hoisin, an open-source responsive framework that we created ourselves, ensured that copy, navigation and assets would display at their absolute best for all users, from desktop right down to smartphone.
USING SILVERSTRIPE
The RSVP backend was built entirely on the SilverStripe CMS. This solution allowed their team to update all content, while maintaining a consistent user experience and design throughout. 
All of our clients find SilverStripe easy to use, with features including drag-and-drop image uploads and quick re-ordering of content. In RSVP's case, it was important for them to have a flourishing blog and careers area; this meant they could grow their team and prospects. SilverStripe makes this a breeze, with job application forms and a flexible blog that can serve many media types on all devices.
THE RESULTS
With striking photography of their charismatic team, RSVP's new website fully conveys their unique proposition. Choosing SilverStripe has meant they can keep the content fresh and exciting, helping draw prospects and applicants.
RSVP have experienced a far higher level of engagement with the new website. In the first six months, they received a 64.7% surge in web traffic, with close to 20% increase in the time spent on-site.