Silverstripe provides comfort and support to Formthotics
by imagic
---
Formthotics have a global and diverse multilingual audience. Their new web site required a robust platform that could provide product information to end consumers along with private resources for medical practitioners. Silverstripe was a perfect fit.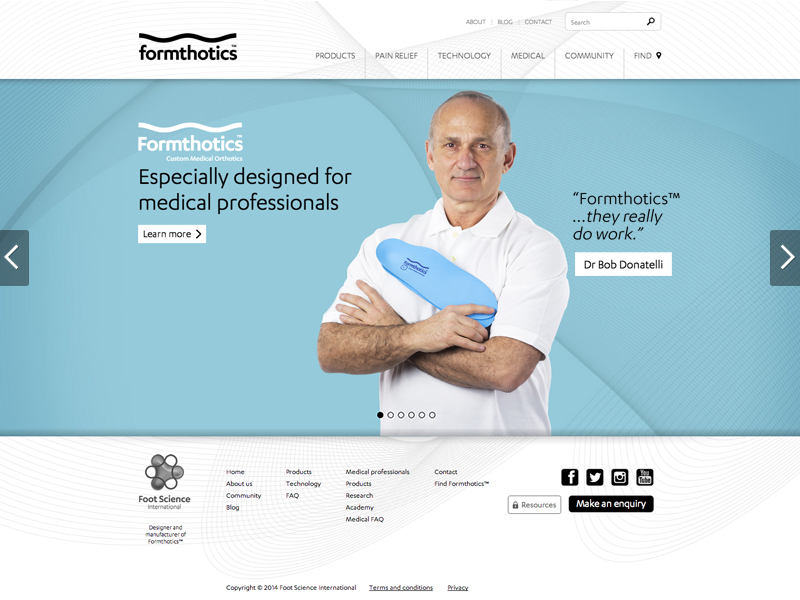 Featured
Sep, 2014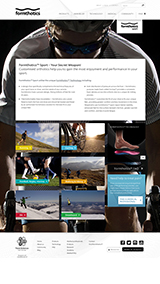 Foot Science International invented Formthotics - customised orthotics back in the 70's. Their orthotics revolutionised  sports and podiatric medicine. They have helped many athletes and sports people achieve their very best by providing comfort and support. They were looking for exactly the same attributes when choosing a platform for their new web site. 
SilverStripe proved to be the perfect fit to tackle this large development project. It provided an intuitive CMS hub for the client with no limitations on the functionality that could be built around it.
Key requirements and challenges for the development were:
For end customers - Introduce them to the clients product range in a relatable way
For medical practitioners - present a catalogue of products with custom filtering, technical information and private (secure) resources
For resellers and distributors - product information and private resources
Community centre
Training centre - a place for medical practitioners to learn new treatment methodology and solutions
Multilingual support
A single intuitive CMS for globally spread administrators
Flexibility to build custom functionality within the CMS framework
Google Map API and data object integration for a medical professional and store locator
A key function is the Resource Centre which was built around the SilverStripe's in-built security feature. It enables the client to easily set up different users and groups giving them access to relevant private content, such as medical resources for medical practitioners, pricing and marketing resources for resellers and distributors . SilverStripe's security feature comes ready with all the heavy lifting done and gave us the flexibility to customise it to provide a graphically intuitive UX. 
The site needed to be multilingual ready. To achieve this we used the Multi Lingual Plugin from Kreations Byran . A low cost multilingual module that lets you set multilingual fields for pages, data objects and SiteConfig. Super quick to configure and super intuitive for the client to administer.
We built a product finder for Formthotic's medical professionals which allows them to quickly filter and find products based on their desired criteria. We used AJAX and SilverStripe's easy to use Data modelling to create the queries to return products based on filters.
Another feature required was a retailer, distributor and medical professional locator.We were able to integrate the Google Maps API with SilverStripe to achieve this functionality. Every store, distributor, and medical professional are stored as data objects in SilverStripe, allowing the client to easily add to, edit, and remove map records. These data objects are pulled via AJAX depending on the inputted search filters of the user.
I don't believe there is another open source CMS out there that would have been more fitting for this build. The development team love it because it is incredibly flexible and does not box them in to any proprietary processes. They can customise and integrate till the cows come home. The client loves the ability to intuitively manage all content, members and administrators with one single login. SilverStripe provides them the comfort in knowing they can grow and adapt to the markets to support them in the future.