TDG Company Website
---
TDG are New Zealand's leading traffic engineering and transportation planning consultancy, with a dynamic, responsive website that helps reinforce their position at the head of their field as well serving as the company's internal knowledgebase.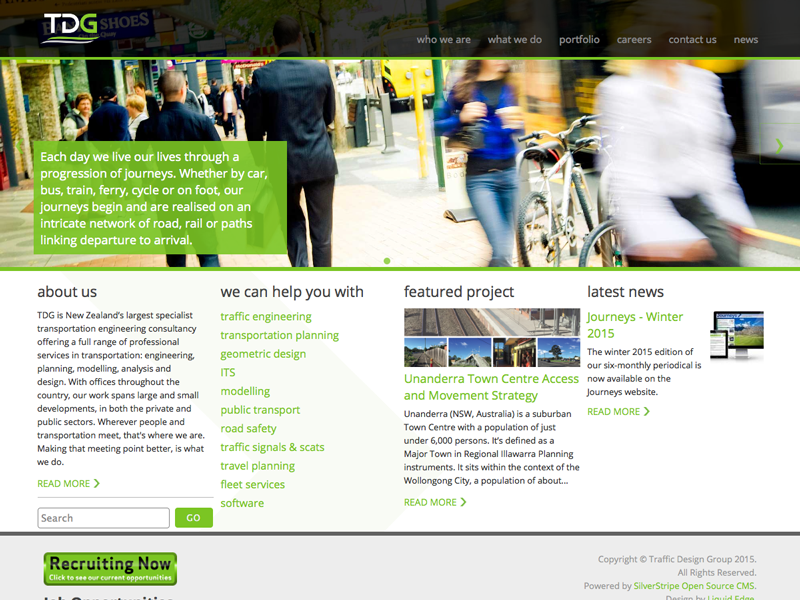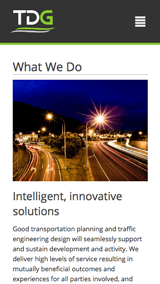 TDG commissioned us to build a site that would serve as both the public face of the company and as a knowledgebase for company staff to help capture latent knowledge and encourage collaboration. The original site was built on SilverStripe version 2.4 and has recently been fully redesigned and upgraded to version 3.1.
Key requirements for the client included:
A clean, professional layout that expressed the company's high quality services and attention to detail.
Excellent site security to protect the knowledgebase.
A simple and intuitive CMS that staff would enjoy using.
An excellent user experience on mobile and tablet devices as well as desktop.
Intuitive tools to foster staff engagement and collaboration.
Several custom modules were built for this site including:
Forum Email Notifications - an extension to the Forums module that allows users to subscribe to email notifications on a forum by forum basis, and choose whether they are notified whenever a post is made or only when new threads are started.
File Resource Pages - a special page type that allows for the uploading and management of files to a unique folder associated with the page. Files are displayed in a table and can be uploaded via the CMS or a front-end form.
Portfolio Module - a system that allows for tags to be created and assigned to portfolio items so users can rearrange the display of items according to those tags. Also allows portfolio items to be categorised as Featured, Standard or Archived, to ensure the most important items always rise to the top.
The end result is a site the company are proud of and one that serves to engage with new clients and foster closer collaboration for staff.