TiKi4 - Managing ideas with you
by benshu
---
Advice and support throught 4 services for the self-employed, Startups and small businesses (junior and senior entrepreneurs), allowing them to transform, ideas and projects, in order to create a company or to improve their existing business.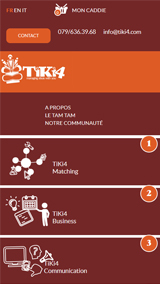 Silverstripe allowed to setup a blog section with comments rapidly using a module, a catalog feature with a cart to order services (custom class/page), a event registration page (custom class/page) and more.
The whole team at TiKi4 can rapidly and easily make changes to the site and translate pages (translatable module).