Vermont General Assembly
---
The Vermont State Legislature's website is a critical source of information for legislators, support staff, the media, and the public.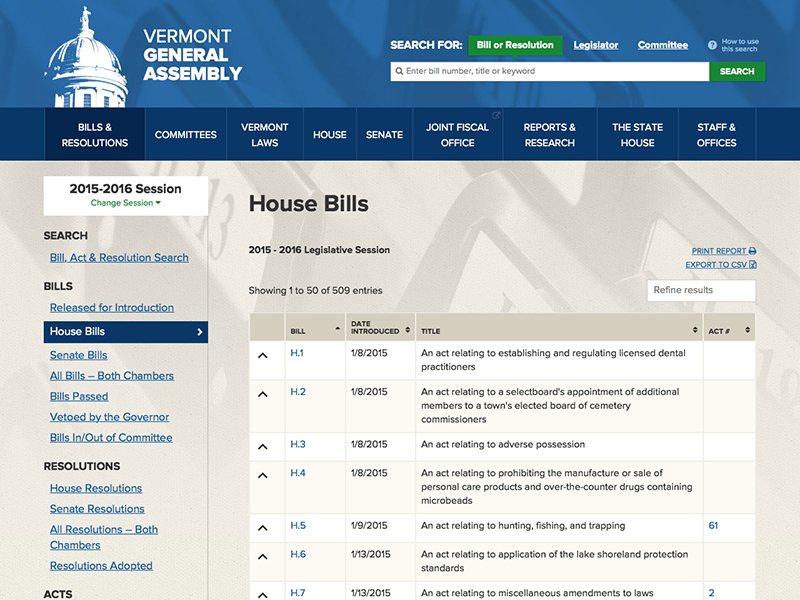 Featured
Dec, 2015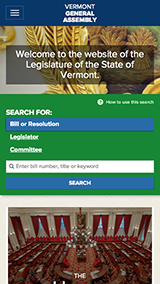 When Bluehouse Group was engaged to design the new website, we were faced with a short timetable for a big project that couldn't be late.  The legislators were scheduled to reconvene in less than six months.  Fortunately the Bluehouse Group team was ready for the challenge.  We quickly dialed up our process and we:
Researched different kinds of users and their priorities
Reorganized large quantities of information to improve usability
Analyzed existing systems and workflows
Designed a fresh interface, built an entirely new website, and integrated it with existing systems
Delivered commercial-grade architecture and code to assure stability, security, and maintainability
Launched on time and on budget.
The Bluehouse team took satisfaction in improving government transparency and giving people inside and outside the State House easy access to information.
"Our goal was to have it built by the beginning of the current session," Martland said. "It was an unbelievably tight deadline, from the beginning of the process to turning on a brand new website," which went live last week, just in time.
Bluehouse made that deadline, and Martland said the website is delivering what the state had hoped for and more.
"They did a phenomenal job," said Martland. "They were just wonderful." He said internal information technology department at the legislative council and "other folks from the legislative council and other officers," pitched in and helped with the process and testing of the new site.
"Our goal was to have it built by the beginning of the current session. It was an unbelievably tight deadline, from the beginning of the process to turning on a brand new website. Bluehouse made that deadline, and the website is delivering what the state had hoped for and more. They did a phenomenal job, they were just wonderful."  
-Luke Martland, Director and Chief Counsel of the Vermont Legislative Council