Advanced Web Design for Advanced Metalcraft
by Bigfork
---
Bigfork designed and developed the new Advanced Metalcraft to help position them as a leading bespoke metalwork company and to showcase their work.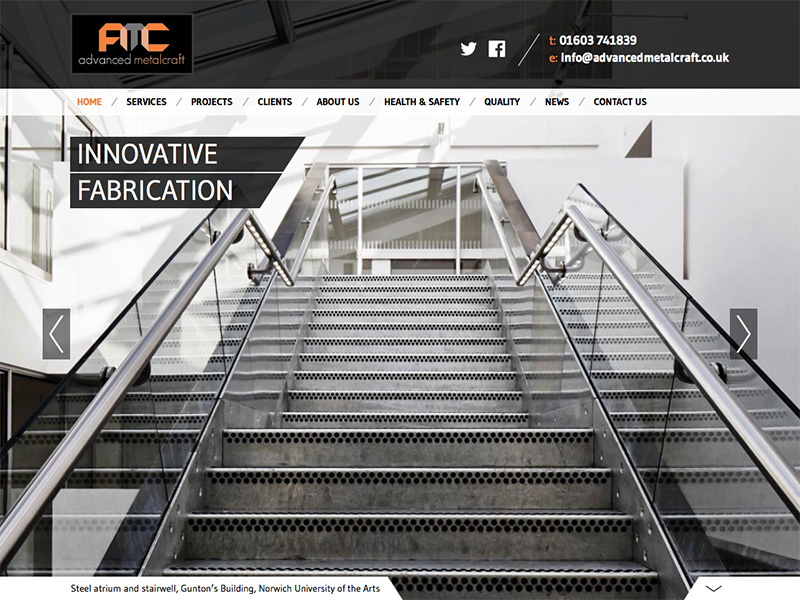 Featured
Feb, 2015
Advanced Metalcraft are a structural steel company based in Norwich, England. They offer bespoke metalwork covering everything from structural steelwork to balustrades for staircases.
The company has grown significantly over 10 years and needed a new website to support their marketing activities more effectively, especially tenders. Their previous website was an "off the shelf" job and didn't reflect Advanced Metalcraft's strengths and quality workmanship.
One of their biggest issues with the previous website was that it had stagnated with out of date news and a limited list of old projects, so using the SilverStripe CMS was an instant improvement allowing them to keep their website fresh with articles and case studies.
One of their target audiences is architects who, our research found, tend to favour visuals. This meant big photography, so the SilverStripe Responsive Images module was a perfect fit, allowing them to upload large images without having to worry about poor performace on mobile devices (it's responsive of course).
To further aid them with getting the best out of their images, we included the Focus Point module which saved them having to worry about cropping images, they can just define the focal point and let the module work its magic.
Behind the scenes we added in some optimisation with the Cache Include module as well as our YepNope module to lazy load javascript, including feature detection so that we can serve the leaner version 2 of jQuery where supported.
Finally, to make the admin experience that bit nicer, we threw in Sortablefile and GridFieldExtensions for drag and drop reordering of images and features, as well as custom security templates to make it feel that bit more special.
The end result is a site that looks great, performs great and is easy to maintain for the client, giving them an online presence that shines as much as their products.