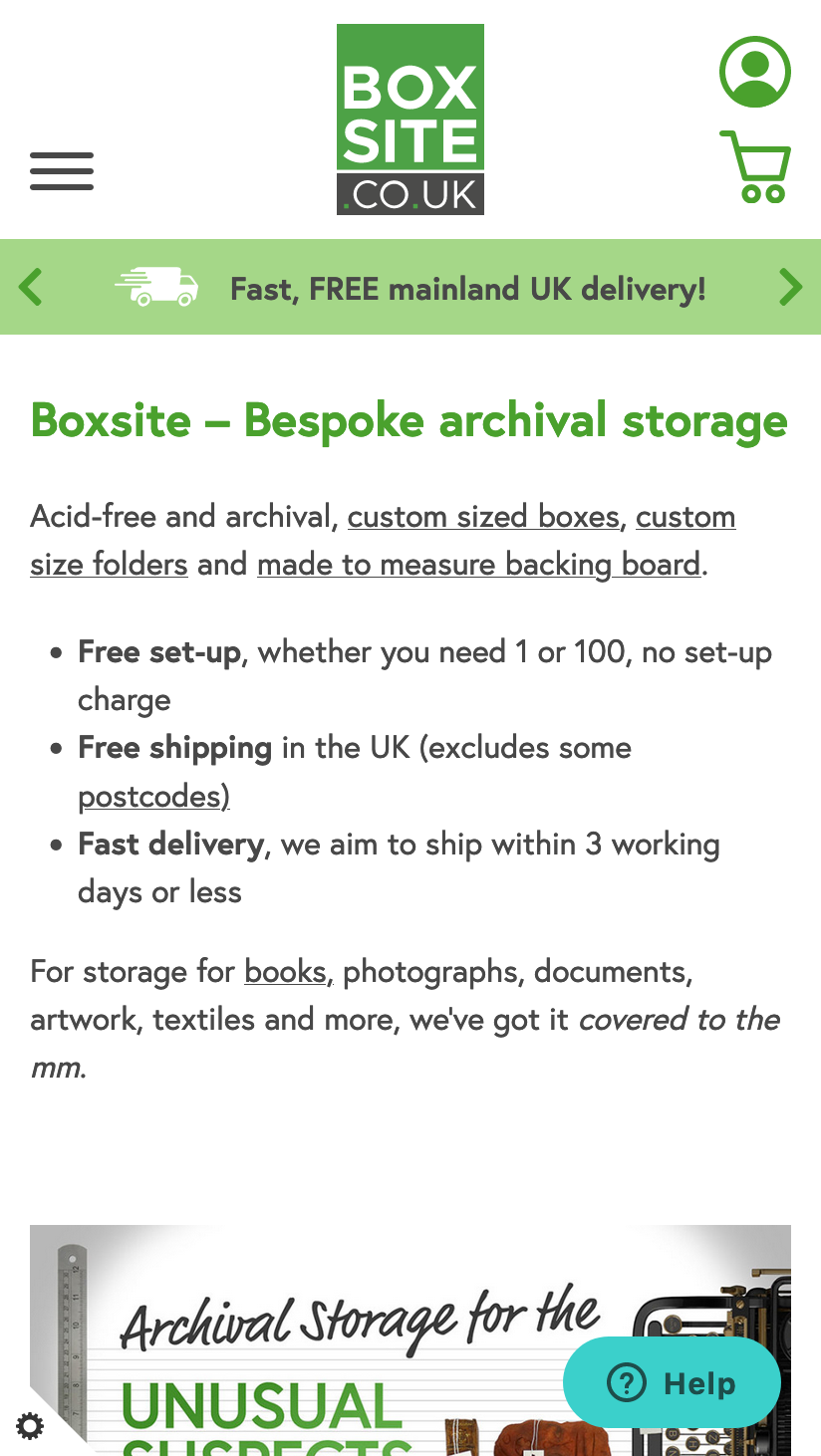 Boxsite is a service from Preservation Equipment, who specialise in products for conservation and preservation of artefacts, artwork, and archives. It allows customers to create custom boxes, folders and other archival storage based on specific requirements and order them online, even if they only need one. Bigfork built the original Boxsite a few years ago and were appointed by Preservation Equipment to create its successor.
The brief
Preservation Equipment wanted to develop Boxsite v2 to expand the service, and to add new features. The main requirements were better functionality on mobile, an overhaul of the pricing calculations, introducing options for more types of products, and improving the page templates so that the website was better set up for search engine optimisation. 
Maths and measurements
It was mega important that Preservation Equipment could manage and add new products to Boxsite. All products have their own calculations attached and these calculations work out which materials are applicable, how many products can be made from a sheet of material, and if it's even possible to make it! There's no such thing as a standard size product on Boxsite, the new site needed to cope with all possibilities, from large boxes for ball gowns to tiny trays for archaeological fragments.
We developed a bespoke setup by which Preservation Equipment can create products, apply the calculations, and let the website handle the rest.
Customer experience
Taking some learnings from the existing website, we also wanted to improve the experience for customers. One issue was customers putting their dimensions in the wrong order and ending up with a tall thin box rather than a wide flat one. To help with this we added a 3D box that mirrors their input so they can visualise the result.
We also wanted to make sure we didn't lose customers if their box was too big. The expanded range of materials and revised calculations now allow users to choose a material, or adjust their dimensions. The old site just showed a warning, so we also added a data capture to enable Preservation Equipment to follow up these leads.
Ecommerce
Of course, customers need to be able to buy the boxes online, create user accounts, view order history etc. We designed this whole process and integrated with Opayo for credit card payments. And for customers who wanted to pay on invoice, an option to email their basket was also included.
The result
Boxsite v2 ticked all the boxes. An updated design, slicker user experience (especially on mobile), more flexible product types and calculations, and better content management options giving Preservation Equipment a website they can easily maintain themselves.