One page website for London based recruitment company Huntley Spence, specialising in IP recruitment.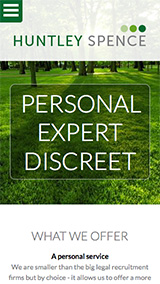 Huntley Spence needed a new website to stand out from their competition. They specialise in recruitment for IP professionals and unlike many recruitment companies do not advertise vacancies, instead they work with individuals to place them into suitable positions as a personal service.
This meant that the website would not need a great deal of content, it just had to look great and convey a professional image worthy of an award winning company, Bigfork worked with Huntley Spence to decide on the best approach and opted for a one-page website with scrolling effects to give it an extra edge over the more traditional competitors' websites.
SilverStripe was used to make it quick and easy to amend text and images as and when required, each panel of the page was created as a separate page in SilverStripe for ease of maintainance and the static publisher module makes sure that there's no unneccesary overhead with this approach.
Responsive Images and Focus Point modules handle all the image optimisation from the smallest of mobile displays to the largest of desktops.
The client is really pleased with the outcome and has started using the new style for all their marketing materials to continue to grow the company.