Greater Norwich Grows with SilverStripe
by Bigfork
---
Bigfork were appointed by the Greater Norwich Growth Board to redevelop their website and tame a document library that had spiraled out of control.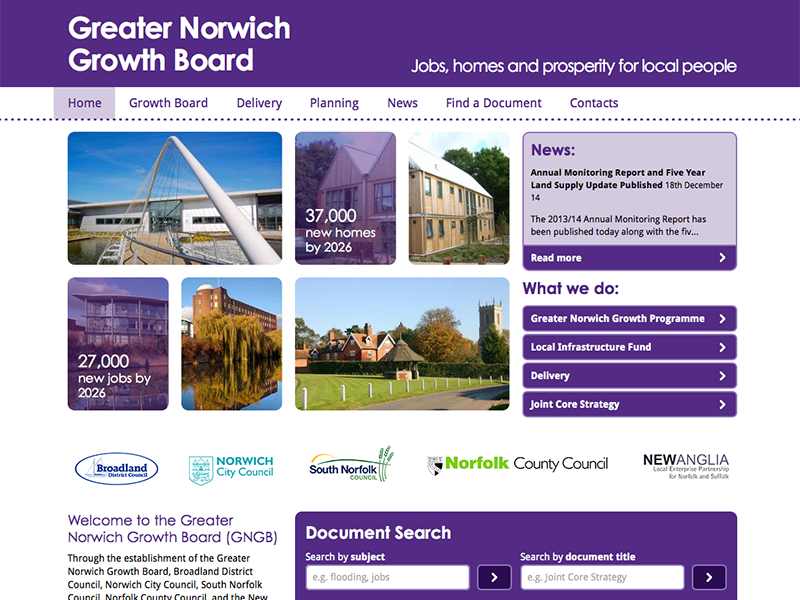 Featured
Jan, 2015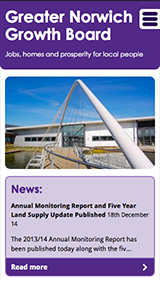 The Greater Norwich Growth Board's partners (Broadland District Council, Norwich City Council, South Norfolk Council, Norfolk County Council and the New Anglia LEP) work together to deliver to deliver an Annual Growth Programme. Bigfork were appointed to design and build a new website with the brief of improving user experience and navigation of website content, including a large document repository. Their existing Wordpress site had grown to include over 1,300 documents, and the basic title-based search and alphabetical listing made it difficult for users to find the information they were looking for.
The first stage was to develop and agree a website specification which included a content plan, content management specification, design brief and UX requirements. A large part of the project was to design the document search functionality so that website visitors could search the large database using several categories/methods.
The existing documents were imported and a user-friendly search facility was built. The document management system (DMS) module was chosen for the documents as this provided features such as expiry and embargo dates, view counts and versioning. The DMS module is designed to attach documents to pages (functionality which wasn't needed) but thanks to SilverStripe's easy-to-use extension points and admin interfaces, the module was quickly adapted to meet the requirements. The data import was achieved by writing a custom BuildTask to convert the files and a matching spreadsheet of file information (human-readable names, dates and tags) to DMS documents which the CMS could handle.
The website was built making good use of the SilverStripe Responsive Images module to provide scaled and optimized images for the user's device with picturefill, and the Focuspoint module to ensure that whenever images are cropped they still show the most important parts. In the CMS, the Shortcodable module was used to provide CMS users with an intuitive interface for adding shortcodes: facilitating adding great looking features to the frontend.
For the search functionality, the SilverStripe FulltextSearch module was used and the powerful Apache Solr search platform to provide results. The FulltextSearch module provides a developer-friendly API for indexing data provided by SilverStripe and performing searches on that data, while Solr provides advanced search capabilities that are optimized for high volume traffic. While initially easy to get up and running, the finer points of Solr presented challenges: custom sort orders and search suggestions, for example, provided real learning opportunities.
With the project already requiring Solr, it was decided to make use of it, in combination with the SilverStripe Text Extraction module, to parse and index the actual contents of the documents: PDFs, Word documents and spreadsheets. This allows users to try to find a document on a specific subject, even if they don't know the title of the document.
The end result is a vastly improved website that's user friendly and provides easy access for users to search for specific documents they require, or browse a topic that interests them.