Carlisle Homes Website
---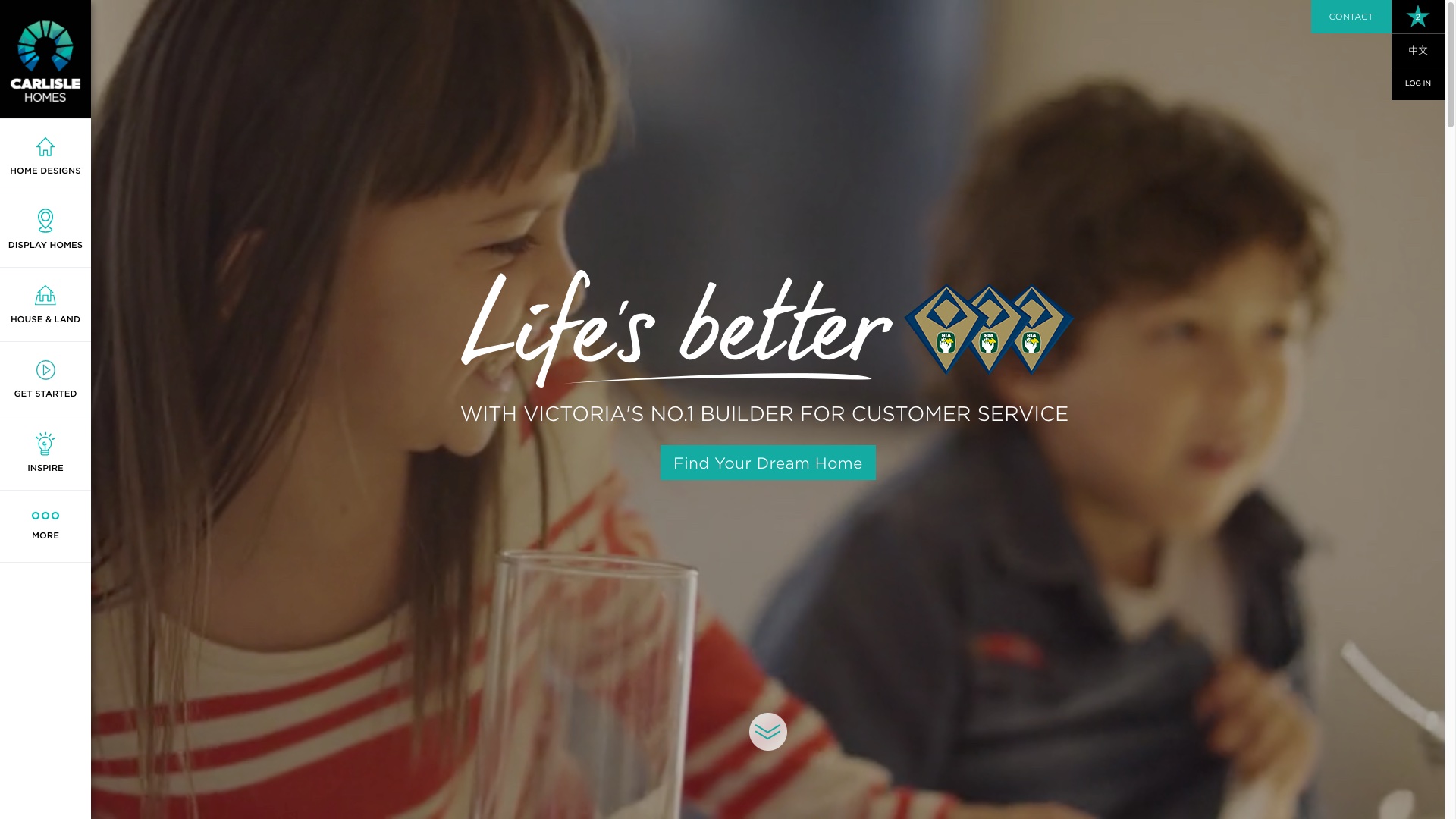 With over 13 years experience delivering over 6000 quality homes across Melbourne and Geelong, Carlisle has evolved to become a market leader in new home building. Annix has been Carlisle's preferred digital agency partner for the past 4+ years.
Features
Video Background and Unique Navigation
Web design is all about conveying your brand message through unique story telling. As our brains are built to deal with a moving world, nothing beats the power of video to help foster an interaction with your audience.
Through the integration of a background video highlighting Carlisle Homes' brand story, an immediate sense of their product in action is shared. By combining this with a unique left hand side multi level navigation, the brand tone is immediately established.
Client Side Filtering, Quick View & Home Comparison
With a powerful client side filter incorporated, end users are provided with instant search results. There are no server calls required and users have the ability to filter against both the home models data and the data of it's floor plan children.
Additional page options allow the user to quickly view floor plans and features of a home, as well as comparing up to four home models.
SVG Interactive Floor Plans
By using Scalable Vector Graphics (SVG), we developed interactive floor plans that give users the capability to add structural options to a base floor plan. Using pre-defined options, users can customise a floor plan that better suits their needs. With zooming, flipping and full screen viewing options available, users are given a unique and interactive experience.
Digital Strategy
Annix has been working with Carlisle Homes as their preferred digital partner for over 4 years. Whilst designing, developing and maintaining multiple websites to the high standard expected, we have also managed the overall digital strategy that has helped Carlisle become a sort after builder across Melbourne.
Over the past 4 year we have delivered over +400% increases in both traffic to and leads from the website through a combination of strategies delivered across the end user lifecycle. Attract, engage, convert and retain.
Add to Favourites
Adding to the unique experience, users can personalise their journey by saving a collection of loved homes. With a simple and accessible implementation, users have quick and easy access to a list of their favourite homes even upon a returning visit to the website.
Interactive Interior Design Collections
We've introduced collections that allow users to view detailed interior themes implemented across the Carlisle Homes display network.
With a unique combination of a page reveal and hotspots, users can view a range of materials, colours and details used within each theme.
This mode of engagement provides an intuitive and informative way of interacting with the image.