Eden Brae Homes
---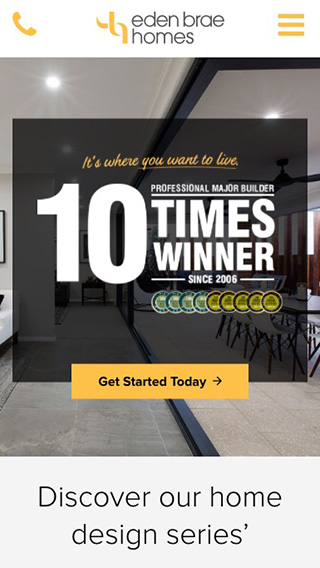 Eden Brae Homes
Eden Brae Homes have evolved into one of the largest volume home builders in NSW, delivering a personalised boutique service and building exceptional homes. Annix has been Eden Brae's preferred digital agency partner for over 2 years.
CRM Integration
One of the largest goals for a website is to convert users into genuine leads for the business. By applying conversion optimization to our design process, we are able to maximize the amount of leads that come through. Further to that, we cleverly pass specific information from the form fields to a Salesforce CRM that categorises the query, dynamically alerts the correct person, opens or updates a customer record and sends a personalised auto-responder back to the customer.
Home filter featured homes
Featured designs are showcased with more screen real estate. They also give the user the ability to browse through a range of photography without having to click into the specific design page.
SMS display home locations
Searching and finding a Display Home should be as easy as possible. On all Display Home pages, users need only to enter their phone number, click submit and have the Name, Address, Phone number and Google Maps link send directly to their mobile.
Personalised email marketing
Email marketing remains one of the highest marketing tools when it comes to return on investment and it's growing. Did you know that 73% of millenials identify email as their preferred method of communication? We get the most out of Salesforce Pardot by utilising mobile first email design, A/B testing, personalisation and logic-based drip campaigns.