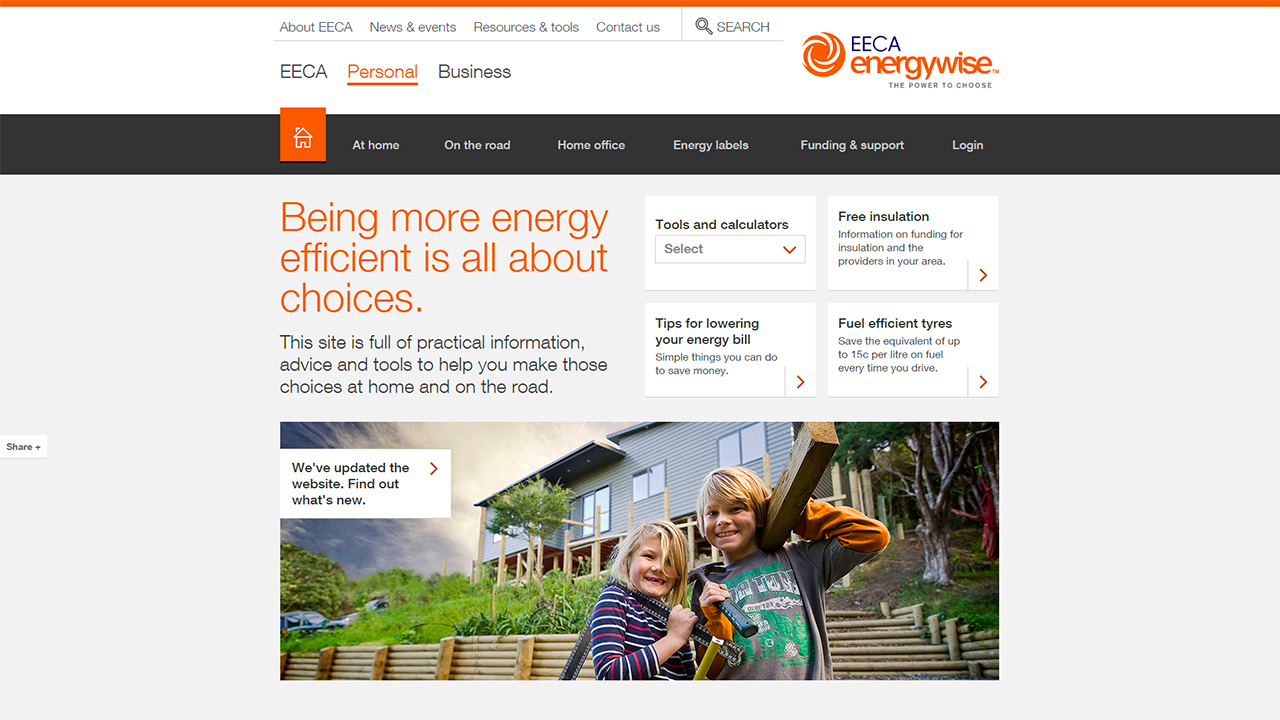 Featured
Apr, 2016
The challenge
EECA refreshed their websites in 2009, but as time passed, the technology base supporting the web channel no longer met the demand of EECA's new digital requirements.
Some issues were:
The sites were not responsive or optimised to be viewed on mobile devices.

The Content Management System (CMS) was outdated and unsupported.

Projects were costing more and taking longer to complete due to the limitations of the technology.

The management of content was becoming time-consuming.



In 2014 EECA made the decision to rebuild their four websites and associated tools using the SilverStripe Content Management System (CMS), and a new technical platform that separates CMS functionality from data, tool logic, APIs and identity management.
Deviate were appointed to carry out this rebuild, partnering with *experience, a leading creative digital agency, who focused on the look and feel and user experience of the new websites.
Using SilverStripe
EECA decided to use the SilverStripe CMS because it aligns with the Common Web Platform (CWP) direction, but also provides flexibility for the development, management and maintenance of EECA's unique tools, data, APIs and security requirements. It also allows EECA to keep the relationship with their current web hosting provider.
Deviate installed the SilverStripe CMS at the web hosting provider, and used this as the platform for all of the EECA websites.
The static content was reviewed, rewritten and migrated into the new SilverStripe CMS.
Tools and calculators
There were initially 26 tools and calculators on the EECA websites, most of which were inconsistent in their design, user experience, and code. EECA's vision was to rebuild the tools so that they were interactive, intuitive and personalised, and played an integral part of the digital experience for their clients.
With this in mind, the tools were reviewed. Some were retired, some were consolidated, and a few new tools were identified. Deviate rebuilt 24 new tools each with a customised, targeted user interface, sharing backend data and logic across the residential and business sectors. It took Deviate approximately 80% of their development hours to complete these tools.
Using the SilverStripe CMS, the tools can now be easily updated and by being more focused on browser technology they are also user friendly and responsive for use on mobile devices. They share a common design theme ensuring there is consistency in their presentation across the sites.

Docker containers
The team at Deviate recommended that EECA use new Docker container technology to improve the deployment process with the web hosting provider.  A Docker container allows Deviate to package up an application with all of the parts it needs and then ship it to the web hosting provider as one package.
The benefits are:
Consistent behaviour across multiple environments.

Same image can be deployed and tested across multiple services and environments making it easier to and faster to identify and fix bugs

Increased portability.

Faster recovery and rollback ability.

Greater scalability.

Applications only uses resources (CPU, memory and disk space) that have been assigned to them.

Patching is easier.



The result
EECA's websites are now audience driven, dynamic, innovative and robust. They provide fast, easy access to the information, tools, people and products their users want. The platform is flexible, intelligent and set up to support personalisation, data and identity management, reporting and connectivity with third party agencies.
The sites:
are responsive and optimised for mobile devices

meet e-govt accessibility guidelines

have a powerful search engine that can search across all four sites

enable users to search for files and pages based on their tags

use a consistent suite of tools both in design and user experience

give EECA more control editing content, especially the tools

have a secure and stable platform

now generate fewer helpdesk calls, giving EECA more time to focus on strategic




development work.
"The dedicated team at Deviate were a pleasure to work with. They made the effort to understand our business, listened to our requests with an open mind, and often thought 'outside the square' to provide sound technical solutions." - EECA Marketing Manager
Get in touch
The team at Deviate might be just who you're looking for.
Contact them now to discuss your vision.
04 381 6820
Launched

13 September 2016