MFAT Tariff Finder Application
by Deviate
---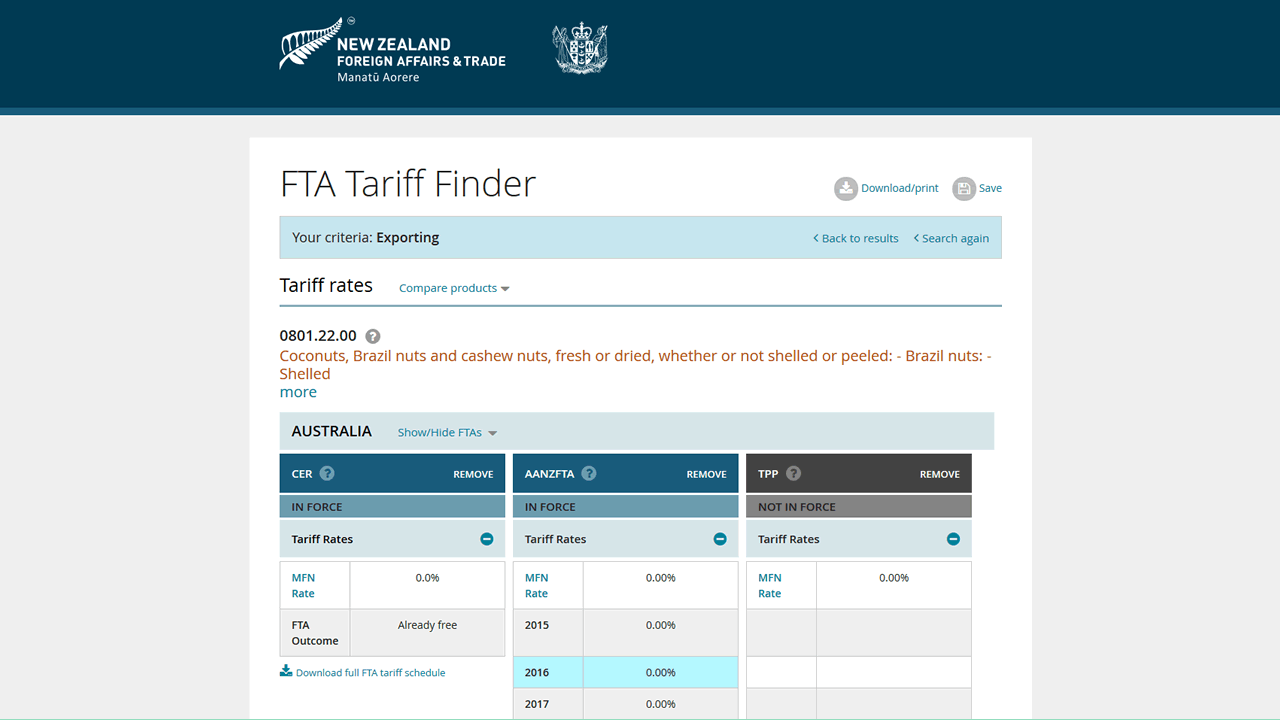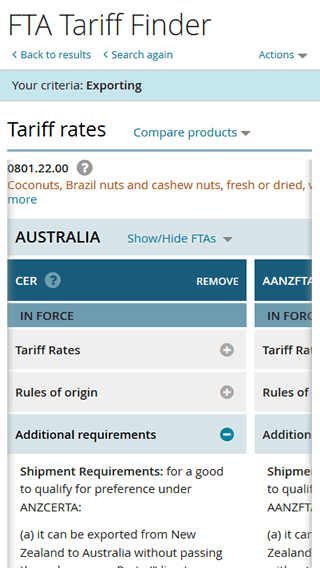 Introduction
The Ministry of Foreign Affairs and Trade (MFAT) acts in the world to make New Zealanders safer and more prosperous.
MFAT leads New Zealand's free trade agreement (FTA) negotiations. FTAs open up market opportunities, streamline processes, reduce costs, and create more certainty and security for companies doing business overseas. They help New Zealand businesses become and remain more competitive in overseas markets.
The challenge
In 2014 MFAT launched a project to redesign and redevelop their website which included merging a number of separate websites, and moving across to the Common Web Platform (CWP) using the SilverStripe Content Management System (CMS).
There were six different and separately managed tariff finder tools existing across all of MFAT's websites, all dedicated to specific trade agreements. In parallel to the website rebuild, MFAT wanted to design and build a single unified and centralised tariff finder that was responsive for mobile devices and hosted on a standalone platform.
This tool would encompass all trade agreements New Zealand has with its trading partners and allows exporters and importers to easily find and compare product tariff data (and associated information), so that they can take advantage of preferential tariff rates offered under FTAs.
One the the unique drivers behind the project was to build a tool to help Small to Medium Enterprises (SMEs) utilise Free Trade Agreements to their advantage. Historically they were not using them often or understanding how they work.
The overall goal was to increase the utilisation of FTAs and by doing so, improving their value.
While exporters were identified as the key user group, other users are:
Importers
Small businesses
Large businesses
Business and industry groups, such as the Chamber of Commerce
Other government agencies
Internal MFAT staff.
The data for the tool is very complex, and is received from numerous sources and in different formats. Each product could have up to 15 fields of data, and the number of markets for each agreement grows as more trade agreements are negotiated.
Deviate were appointed to carry out the development of this tariff finder by *experience, a leading creative digital agency, who focused on the insights and research, design, user experience and user testing components of the project.
Using SilverStripe
One of the requirements of the project was for the trade team to be able to log in to a secure administration area to manage the content and update the data easily.
The choice to use the SilverStripe CMS was made partly to align with the overall direction to move the main MFAT website to the CWP, and partly because of the ability to flexibly and easily manage both the editable content such as FTAs, countries and additional information, as well as data that is uploaded such as quotas and tariffs.
SilverStripe also offers excellent version control functionality.
Building a highly flexible solution
While Silverstripe modules were used for the build of the tariff finder, there was considerable customisation needed to tackle the complexity of the data, giving Deviate an opportunity to show their skills at problem solving.
The power of search
The most important and complex part of the tariff finder is the search. *experience used their extensive skills in audience research and user experience design, and provided Deviate with the specs to develop the tool so that it enables users to:
compare search results not just across FTAs, but also between different products
compare apples with oranges, which was not previously possible.
Users also have full control once they reach the first results page. Rather than forcing them down a particular path, the tariff finder allows them to use their knowledge of the products they trade to select particular lines of enquiry. The final results page then allows them to compare other products, FTAs or countries against their initial search.
The final results page also includes a large amount of information which is extremely useful for traders. The tariff rates are an important piece of information, but now the rules of origin and additional customs rules and procedures are also displayed in a single search.
Seeing the results
Due to the extensive product hierarchy, it was important that the search results were displayed in a user-friendly way. *experience and Deviate worked together to come up with a visually appealing and usable search results list.
Improving the reliability of information
A very powerful feature created by Deviate is the ability for the tariff finder to work across inconsistent tariff nomenclatures. The tariff finder still works regardless of whether one or more countries are using an older nomenclature, while all other countries are up to date.
Previously the tariff finder would use the older nomenclature until all countries moved to the new standard meaning data was out of date until then. This new feature has meant a huge improvement in the quality and reliability of information presented for traders.
The result
The team at *experience and Deviate have designed and built a centralised and integrated tariff finder tool using the SilverStripe CMS.
The tool is:
responsive
user-friendly
flexible
scalable
centralised
easily updated by MFAT staff.
The tool allows people to search and compare any of the data needed when importing or exporting from New Zealand to countries with free trade agreements in place.
It is the only tariff finder of its kind in the world.
Feedback
I have found the MFAT tariff finder to be an invaluable resource which effectively distills key tariff, quota and safeguard information and reduces the complexity of trade agreement outcomes. The tool is well designed and simple to use, particularly when compared to the tools made available by other countries and paid-licenses we use. Particular strengths of the tool include the ability to compare market access outcomes across multiple agreements in a single market; the ability to view tariff rates (including safeguard volumes and/or quota volumes); rule of origin requirements and document requirements clearly on one page; and its comprehensive coverage of New Zealand trade agreements (both those that are in-force and yet to be implemented).

The site functionality is also great, the collapsible headings and logical layout make it easy to use. I would be happy to see more tools of this quality in the trade policy space!
- major food exporter
The tariff finder that Deviate built for us goes far beyond anything currently available by government trade agencies anywhere in the world.
- Ministry of Foreign Affairs and Trade
Get in touch
The team at Deviate might be just who you're looking for.
Contact them now to discuss your vision.
Level 6
61 - 63 Taranaki Street
Wellington 6011
New Zealand
PO Box 9878
Marion Square
Wellington 6141
New Zealand
04 381 6820
Launched

13 September 2016