If you could talk to the animals...
by mhdesign
---
… they would tell you to check out the Animal Health Centre website, where you will find caring vets that look after your pets as if they were family.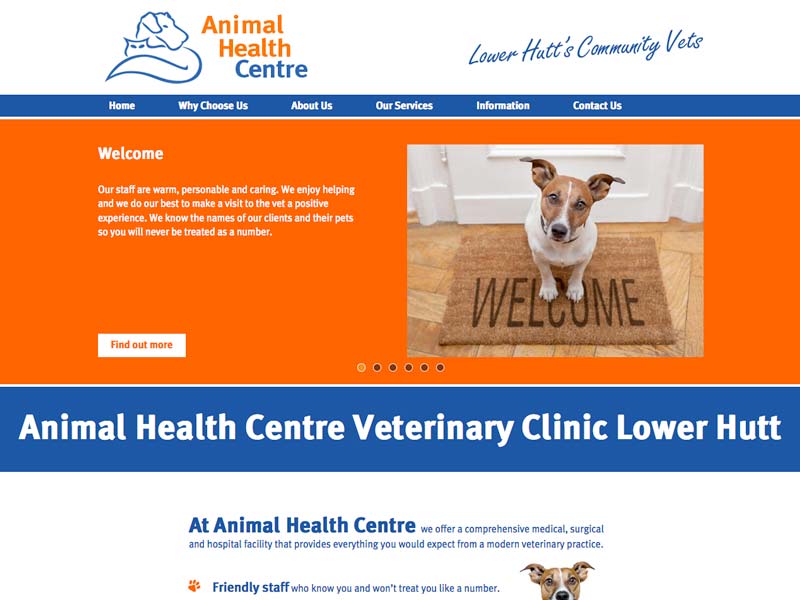 Background
Animal Health Centre needed a website that built their brand, introduced their team and got them found online. They came to us with a long list of 'wants' and lots of ideas. Working closely with them we developed their existing brand and built a bespoke website that met their needs.
One of the main requirements was that the site included a CMS that would allow staff at Animal Health Centre to update site content as required. SilverStripe was the obvious choice for the job. As well as this, they also needed the following:
Image sliders on Homepage, 'About Us' page and gallery page
Dynamic CSS transitions to add 'life' to pages
Two-level navigation at top of pages
Sidebar navigation for subpages
Interactive Google location map
Navigation to key pages, contact information and static map in page footers
Starting with a clean build of SilverStripe we created the required template pages and includes. We added the FlexSlider module to handle the slider requirements and included the Googlemap module which gave us an interactive location map. The templates also included special image fields allowing us to place images of 'Jack', our Jack Russell Terrier guide on site pages. Keep an eye out for Jack as he shows up in many different guises throughout the site!
The Results
"Mike and Julie are genuine and approachable. I chose them to develop our website because I felt I could work with them on a personal level, and I'm happy I did. They made good suggestions, spoke easily understood language and were patient during the design process. I also liked that Mike was accessible and responsive to requests.
"As a consumer, I enjoyed the experience, and received excellent customer service from MH Design." 
Simon Nelson, Animal Health Centre