Ministry for Pacific Peoples
by ascott
---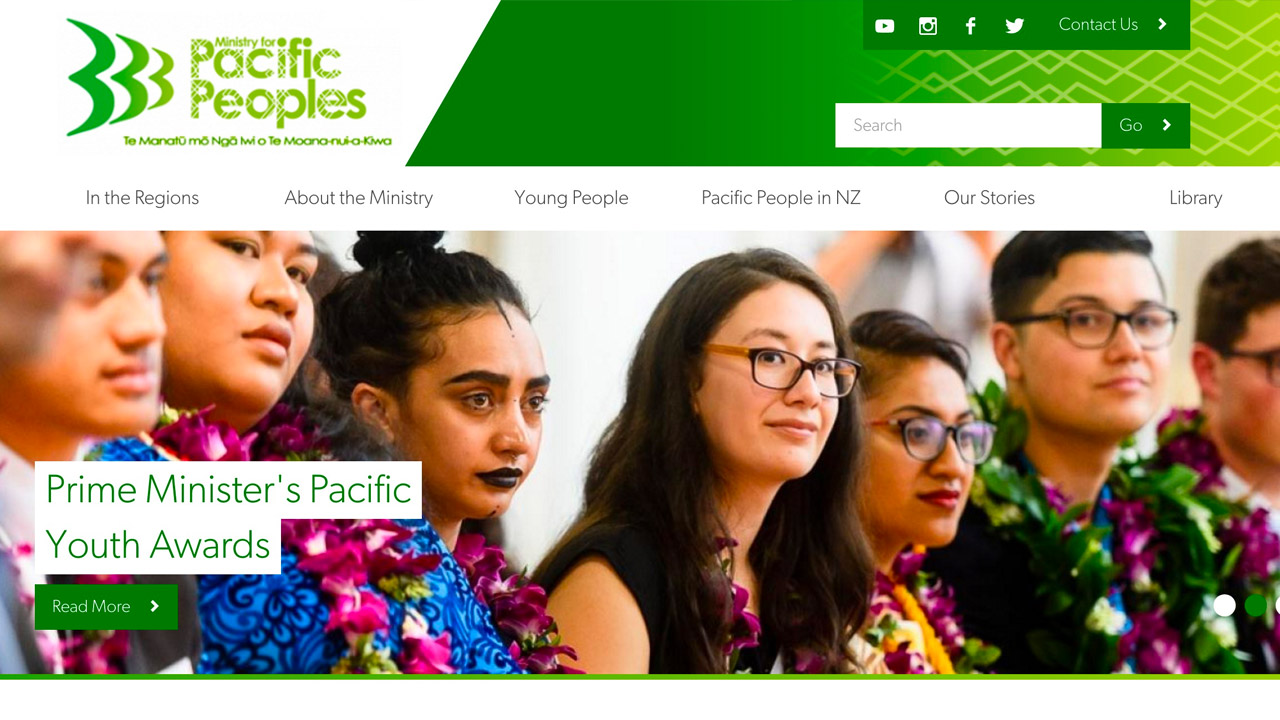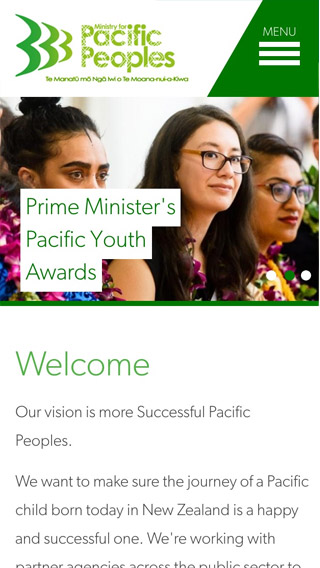 The Brief:
The Ministry for Pacific Peoples (formerly known as the Ministry of Pacific Affairs) is a Government organisation set up to help Pacific peoples achieve success, and to encourage all of New Zealand to acknowledge the social and economic benefits of that success.
They required a new website to coincide with the change of name and accompanying brand.
Positive Change
The Ministry for Pacific Peoples website needed to reflect the vibrant community that it represents, as well as deliver a large amount of information to users with varying access to technology. We developed a SilverStripe solution to allow the Ministry to manage their own content, with a number of features including a dynamic Social Media feed for Twitter and Instagram, and an e-newsletter module to strengthen their communication channels online.
Bringing it Together
As part of their future strategy, the Ministry wanted the flexibility to be able to include subsites for their other initiatives such as the Prime Minister's Pacific Youth Awards programme, and Toloa Scholarships. Bringing these together under one roof required a customisable template and adaptable content management system, but the end result is a cheaper, more efficient process for the Ministry when updating subsites.
On Brand
The Ministry for Pacific Peoples brand was created by two students during their time at Manukau Institute of Technology (MIT), as part of the Ministry's approach to supporting young Pacific peoples and to reflect the community. Because of this, there wasn't a brand guideline document or logo suite, so the Somar design team worked together with the Ministry to refine their logo and create a series of web-based brand guidelines to ensure consistency.
Overcoming challenges
Every project has issues and roadblocks. Somar roll with the punches and learn from everything we do:
Shifting timelines
The Ministry of Pacific Peoples project had a number of moving deadlines which needed to be met, with high-end sign-off required by Ministers and training sessions to ensure that the administration team could populate and maintain the website. With only the draft version of the logo to work with, Somar employed an agile approach to the project so that the Ministry could prioritise the design and development stages to best suit them. The end result was on budget and met the required launch date in March 2016.
Respect for culture
The Ministry of Pacific Peoples policy is to support and encourage Pacific peoples and culture; and the website needed to reflect this in terms of design and usability. At Somar we have a deep respect for local cultures including Māori and Pasifika, as we've proven on a number of branding and design projects. The Ministry were extremely impressed with the outcome and how we handled the cultural sensitivities of the project.
Issues with content structure
Due to the Ministry rebrand, and age of their original website under their former name of Ministry of Pacific Affairs, the site structure and content hierarchy wasn't fully defined for the new website. Somar helped the client re-order their information architecture (IA) and create a more streamlined site, removing pages of superfluous content. We also helped to highlight the important information to users, such as Regional Teams and Employment and Entrepreneurship sections.
Get in Touch
Contact us on hello@somar.co.nz or call 04 385 1075.