Wellington Jazz Festival
by ascott
---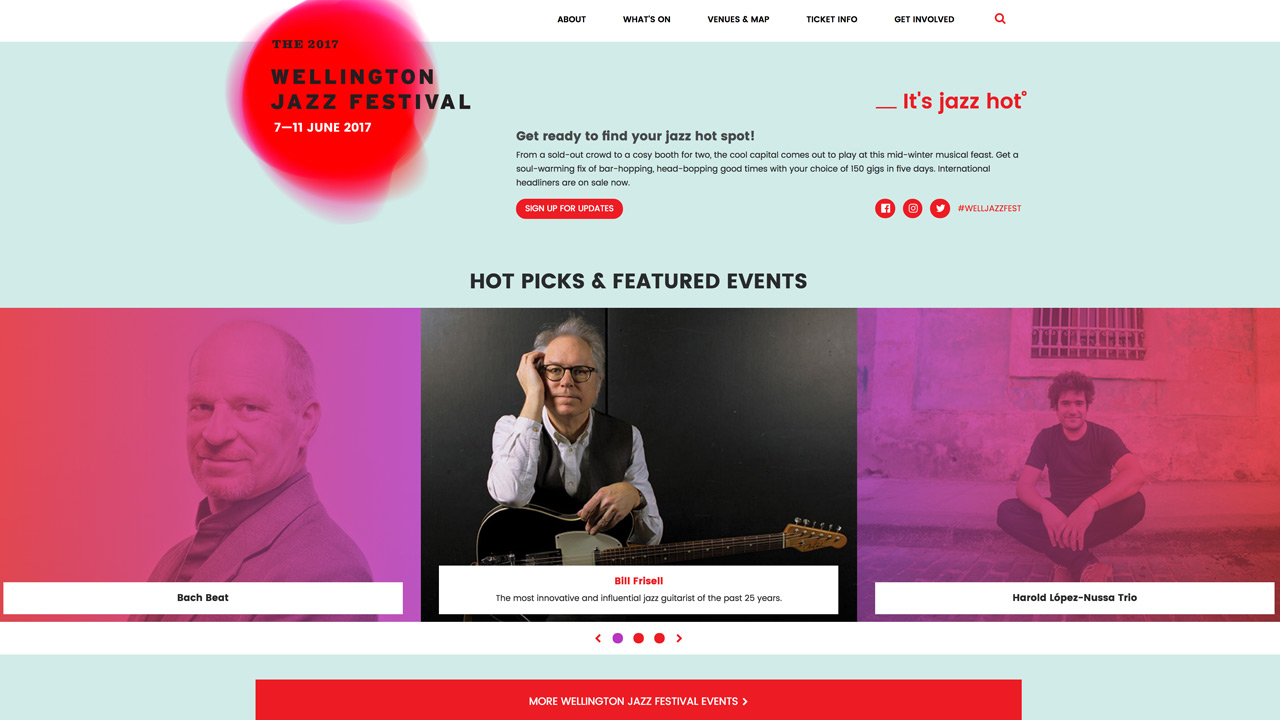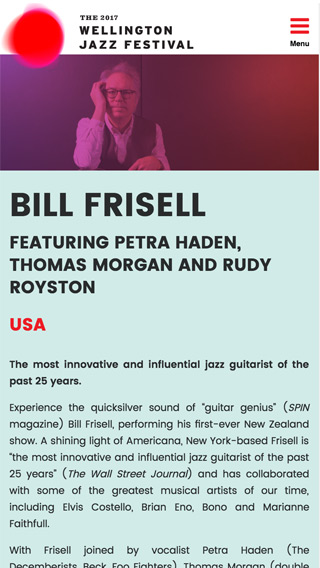 The Brief:
The annual Wellington Jazz Festival features major international headliners as well as top local musicians, with festivities spilling out onto the streets. A capital mid-winter culture hit, it's enhanced by great music, food, wines and craft beers - increasing in popularity with each year that passes. New Zealand Festival approached us to create a website that not only captures the energy and creativity of the festival, but one that also featured comprehensive gig listings, venue maps, and dynamic content leading up to, and during the event.
Evolving the Brand
We worked closely with the Wellington Jazz Festival and New Zealand Festival to ensure that the brand would be on point, and tie closely in with their upcoming print and marketing campaign. The colour palette and use of imagery add a level of energy, with their tagline of "It's jazz hot" setting the tone of the website. While the actual artists and events were not locked down during the design phase, we mapped out exactly what the client would require leading up to the festival, and built an event module which exceeded their expectations.
Breathing Life into the Web
The marketing for Wellington Jazz Festival 2017 features a 'hot spot' device, and while it will primarily appear in static print - we wanted to inject some life into it for their digital presence. By separating it out into four different layers and applying different transitions to it - all using CSS and animated SVGs - we were able to craft a subtle, organic movement to the device. Thanks to a small filesize, this animated hot spot is present on every page of the site in various sizes (it never appears static) and also works on mobile devices, with little impact on performance or bandwidth. A subtle and smooth approach was taken toward all animations on the site, a user experience which mimics the subtleties of the jazz artwork itself.
Contextually Aware
Because of the event driven nature of the website, we built in contextual content so that the Wellington Jazz Festival site will change depending on the user's location and the current date. For example during the festival, the homepage will automatically update to show up-coming events so that visitors can quickly see what's on that day. In a similar manner, the site also features a fully interactive map of Wellington, showing venue information in a quick, efficient manner. On a mobile device, this will serve as a navigational tool so that users can see their own location while on the move and help them find where their jazz gig is taking place. Coupled with a powerful administration tool within the content management system, it means that the client can easily populate and update the site for maximum impact over a relatively short lifespan for a website (the festival runs for around a week).
Overcoming challenges
Every project has issues and roadblocks. Somar roll with the punches and learn from everything we do:
Brand Alignment
We worked closely with the Wellington Jazz Festival's marketing department, and also NZ Festivals, to ensure that all our digital communication via the website was aligned for brand cohesion and recognition.
Contextual Assumptions
Because the schedule for the festival was yet to be announced, Somar had to work with assumptions to ensure that once the events were populated, that the website would still function exactly as it needed to during the festival. We did a number of test sessions and setup time-shift environments so that we could ensure contextual information during the future dates of 7th - 11th June.
Get in Touch
Contact us on hello@somar.co.nz or call 04 385 1075.