Gordon Ramsay Restaurants
by GBarden
---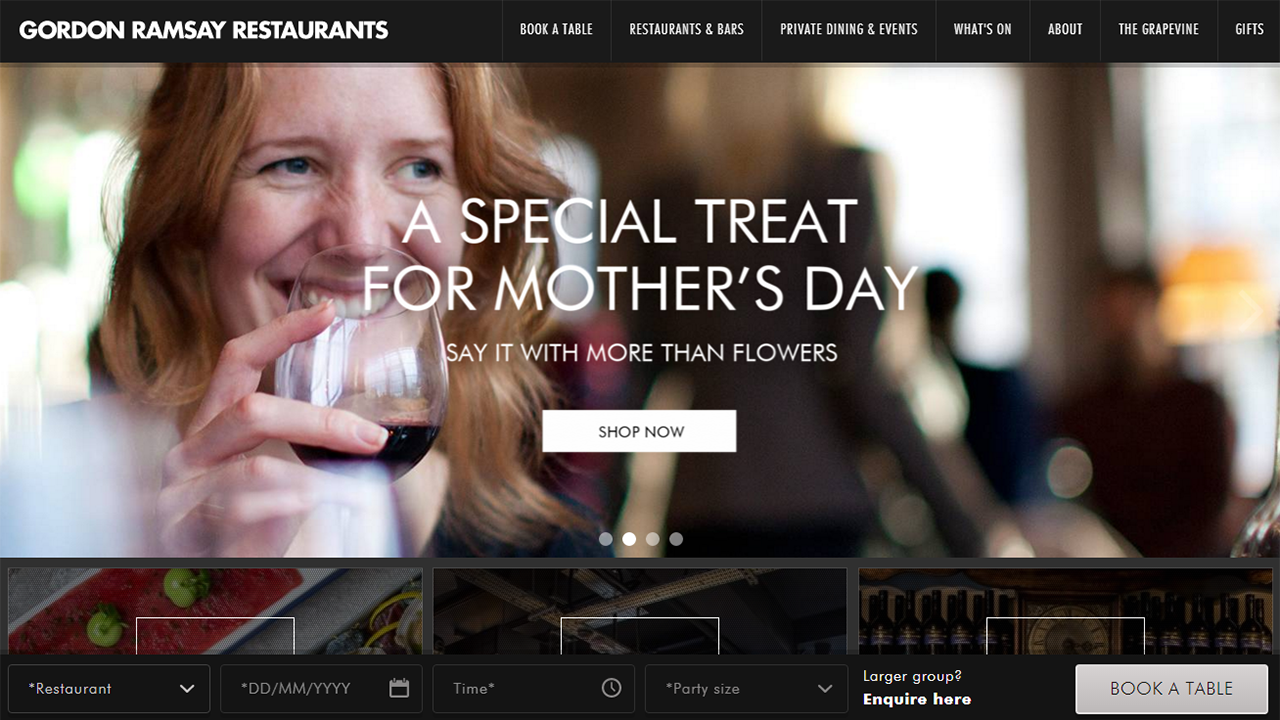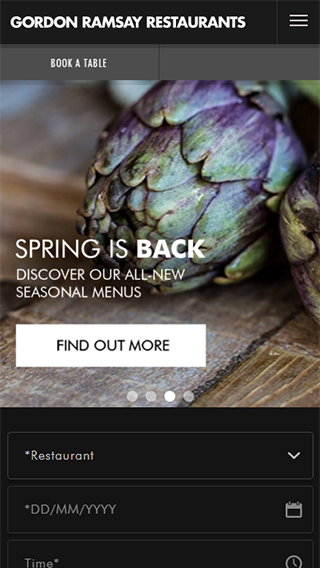 Project summary
Forming the cornerstone of a new digital roadmap designed to support Gordon Ramsay Group's ambitious global expansion plans, the website we launched earlier this year is a powerful platform to showcase both the Gordon Ramsay brand and those of the Group's stable of restaurants, now spread across the UK, France, Italy, the United States and Asia.
Complete with a contemporary redesign, enhanced user journeys and intuitive booking system, the new website provides an optimised customer experience devised using insights gleaned from the latest booking trends, mobile browsing experiences and changing consumer consumption behaviours.
The website has been designed to house the restaurant brands on a common booking engine and e-commerce platform, while still giving each restaurant the room to thrive independently by developing its own online brand presence and social fanbase.
Background
At the age of 31, Ramsay set up his first wholly-owned and namesake restaurant, Restaurant Gordon Ramsay. Restaurant Gordon Ramsay opened in 1998, and quickly received the most prestigious accolade in the culinary world – three Michelin stars. Today, Restaurant Gordon Ramsay is London's longest-running restaurant to hold this award, and Ramsay is one of only four chefs in the UK to maintain three stars.
Now internationally renowned and holding a number of Michelin stars, Ramsay has opened a string of successful restaurants across the globe, from Italy to the United States. These include two ventures in Doha, Qatar, which opened in 2012; a restaurant in Bordeaux; three restaurants in Las Vegas (Gordon Ramsay Steak at Paris, Gordon Ramsay Pub and Grill at Caesars Palace and Gordon Ramsay BurGR at Planet Hollywood); Gordon Ramsay Pub and Grill in Atlantic City; Bread Street Kitchen and London House in Hong Kong; and Bread Street Kitchen in Singapore.
Our challenges
The Gordon Ramsay Group had a disjointed digital ecosystem with a one-size-fits-all communications. Data sat in silos with no single customer view meaning reporting across the channels was compromised. The group had the desire to drive engagement and advocacy across its portfolio with the website as the central hub of this push.
Our solutions
The solution was to make the most of touch points: before, during and after dining in the restaurants. Additional engagement was driven through visitors cooking via the recipes section.
Each channel was given a clear purpose at different stages of the purchase and decision cycle. Segmentation enabled the right message to right customer at right time.
Alongside the website marketing automation enabled the triggering of sequential messages with a clear goal in mind whilst relevance is increased, sharable content is provided and social signals included to drive advocacy and search ranking.
Within SilverStripe a shopping cart system was developed to handle the purchasing of gifts and experiences integrated with a payment gateway. To enable direct reservation of tables, a booking engine was integrated into the site. For the front end, a block system was built so that content editors have flexibility to build pages to support the messaging and current marketing activities.
The results
The Gordon Ramsay Group now consists of 29 restaurants with each having a presence on the website, up from 12 at launch, SilverStripe has ably supported this expansion.
A new strategy of adopting a user-focused approach supplemented by more effectively targeted content and social media marketing has already seen each restaurant grab a greater share of the search space. Since launch we have generated a 132% increase in direct bookings via the website.
The Black Friday and Cyber Monday events in 2015 generated in excess of a 5000% uplift in voucher sales. Throughout the year the number of bookings has shown a significant increase.