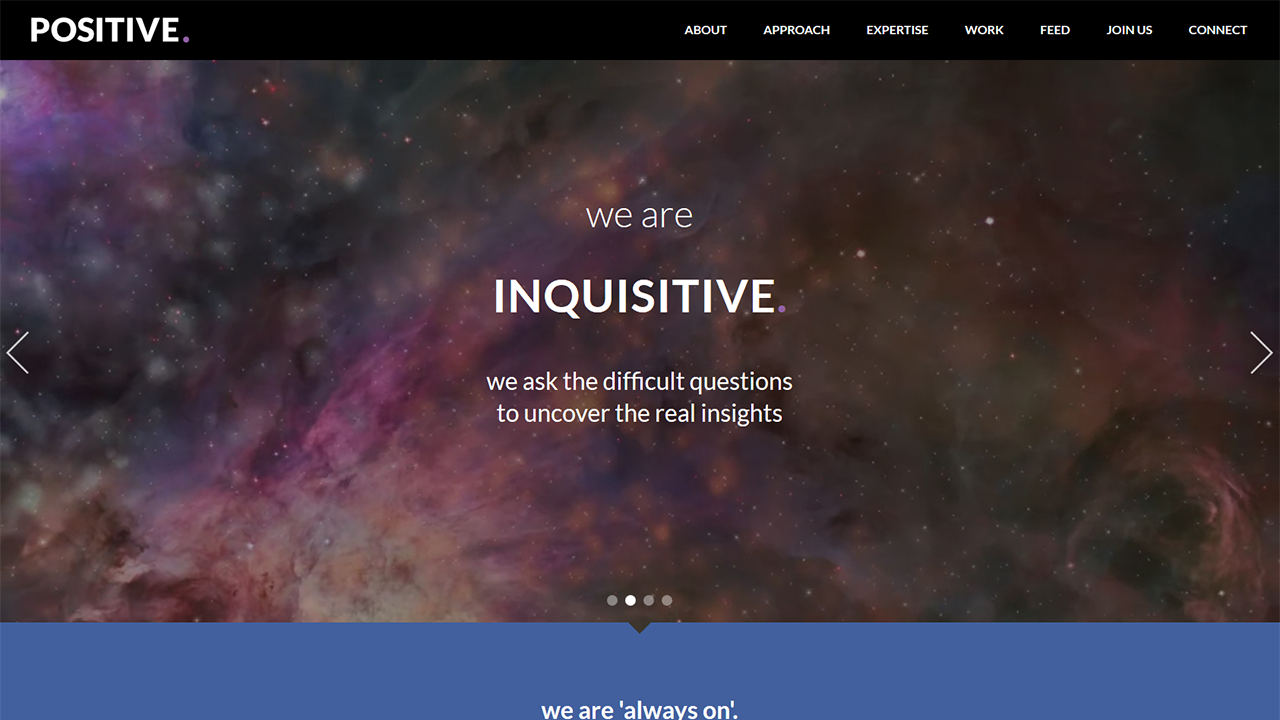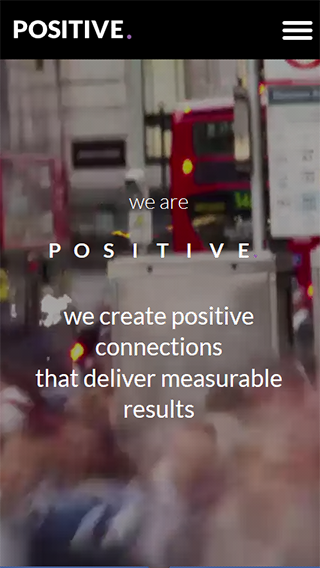 Project summary
Before the launch of the new website, Positive had several web sites live targeted at each of the units within the business. This was leading to confusion in the offering and lack of visibility of the entire proposition. The aim of the project was to merge the existing presences and to present a combined offering across the business.
In tandem to the content restructuring, a rebrand was also undertaken which was then developed throughout the build process.
Background
"At POSITIVE we make a living from helping people create positive connections - between our clients and new and existing customers, within B2B and B2C channels, on a local, national or global scale."
We are an award winning, digitally-led marketing agency for the age of participation. Positive is also a board member of Confrad, a global network of independent agencies.
We were established in 1995 and have 51 full-time staff located in Richmond upon Thames in West London.
Our challenges
The numerous internal stakeholders meant that an agile and speedy build was required on a flexible platform to work with the various agendas within the business units. Changes to the information architecture and design were worked in during the process. SilverStripe suited the role as an agile platform, allowing the agency to modularise the delivery to support the requirements of the entire team.
As well as providing a basis for the brochure content for the agency, the site also had to perform as the foundation of the company social media strategy. A company blog is authored within the site and the company Twitter feed is also prominently displayed on every page.
Our solutions
The primary solution was to use SilverStripe as an agile framework for the build due to the changing requirements of the stakeholders. Content changes were worked on in parallel to the development of functionality. Multiple developers working on the project were able to synchronise work due to the modular nature of the CMS.
Video and CSS parallax effects are utilised to give a contemporary feel to the site for visitors along with multiple responsive viewports for mobile devices.
The results
The site launched to positive comments from the internal stakeholders and external audience. Since launch the site has been the platform for the corporate blog and is currently undergoing enhancement to extend the range of content available for potential and existing clients to review.
Launched

24 February 2016