NZX Agri wanted to bring a number of print publications online under one platform. The end result is one comprehensive online destination for individuals within the New Zealand agricultural sector to find real-time, relevant and personalised information that will significantly enhance their ability to lead the world in quality agricultural products and services. Based on users individual online subscriptions, it was imperative that SilverStripe create a sound, adaptable platform in order for NZX to achieve this.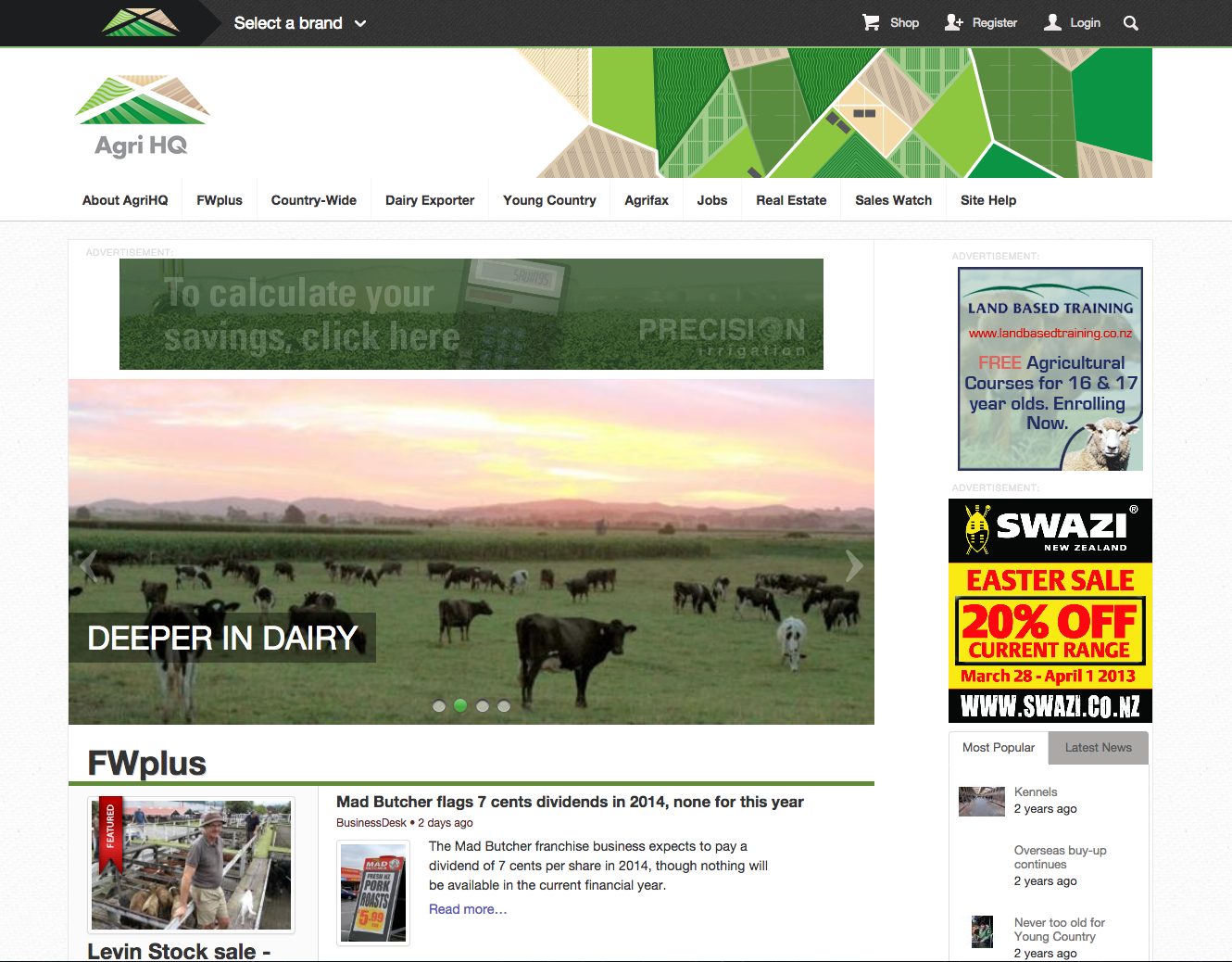 NZX Agri is a key division within NZX - the New Zealand-owned and managed company which operates New Zealand's only registered stock exchange. NZX Agri provides the market infrastructure and commercial support for the agricultural sector, with plans to grow its business and contribute to the New Zealand economy. Agricultural markets in New Zealand are seen by NZX as essential to the economy and key to future growth.
AgriHQ
The latest AgriHQ project headed by NZX Agri is the new portal for sharing New Zealand's farming intelligence online. The portal offers users more opportunity to search for the information they need regarding the New Zealand agricultural industry. This central hub of information will continuously grow as more content is integrated through the ongoing development of subsites.
FW+
FW+ (Farmers Weekly Plus) is the web-based home of The New Zealand Farmers Weekly, an NZX Agri published newspaper delivering news and information to the New Zealand agricultural sector each week. In July 2012, NZX approached SilverStripe to discuss the development of the new Farmer's Weekly website that would deliver online content and services to the New Zealand agricultural sector. Farmers Weekly is the first of numerous publications to be brought online.
What we did
SilverStripe provided the design and web development for FW+. The central AgriHQ site acts as a live feed that is automatically structured in a way that displays articles as defined by the content author in the CMS. Overall, SilverStripe implemented the following features:
user login system
social media integration with articles as they go live
e-commerce solution for new online subscribers providing immediate access
ability for users to buy books, merchandise and online subscriptions with instant access
ability for content editors to easily create advertisements to be displayed on the website in any order/location as specified
What users can do now
Articles can be in public or preview state depending on the preference of the content editor. This is a custom function that SilverStripe has added to the CMS which enables editors to easily switch the level of access for the reader. Preview pages sit behind a paywall, restricting access to only users with paid subscriptions.
Complete access is restricted for highly secure/protected articles, for example research results, which are only available to certain levels of subscriptions, which again is all defined easily by the website administrator within the CMS.
Challenges
The website integrates with ACT Sage; a system which manages subscription information of all four of NZX Agri's online publications. Like many legacy systems we were called to integrate with, SAGE was limited by a number of legacy constants and wasn't optimally set up to facilitate integration with a web subscription system.
The overall goal of the program was initially architected for a long-term implementation, while only incrementally releasing additional functionality to the public. This made it straightforward for NZX Agri content editors to add new brands and subsites with ease, but proved a technically challenging aspect in the outset.
Dairy Trader
In June 2013, SilverStripe together with NZX Agri, launched the Dairy Trader website. The website marks a key milestone for the dairy sector globally and for NZX Dairy Futures. The website is a place for investors to buy and sell shares in dairy products online.
The new site replaces the former email newsletter The Dairy Trader, which has been published three times a week since the launch of the NZX Dairy Futures market in October 2011.
What we did
SilverStripe integrated deep data analysis and unique forecasting tools such as the new Pasture Growth Index, which reflects dairy pasture conditions as calculated by NIWA.
Fully responsive website design - Widescreen, normal screen, iPad/tablet, iPhone/mobile
Advert serving system for wide range of advert types and placements
Dynamically generated bar, line and plot graphs
Automated, dynamic Daily and Weekly update emails
What users can do now
The website provides a central point for dairy market information based on three levels of access. The home page containing a dashboard of dairy information is available free to all visitors. A second tier of information and analysis requires registration, but is available free of charge. Readers can access the full range of content within the site via payment of an annual subscription.
Paid subscribers can access:
latest global dairy industry news
updates on prices
supply and trade in dairy commodities
the NZX Dairy Pastoral Growth Index (PGI), which reflects dairy pasture conditions
historical information on NZX futures prices
New Zealand's milk production history
GDT (GlobalDairyTrade) data and PGI data, going back 20 years
Challenges
Much of the index data was new to NZX at a presentation level, so integration with these systems was based on a proposed architecture, rather than an existing one. Complex rules around presentation of a variety of data was challenging, including the timings of emails to subscribers based on differing time zones. Working closely with NZX to map these was critical to the end result, and the key people at NZX who had the in-depth knowledge of their organisational requirements helped us to achieve a successful outcome.
Measures of Success
We are confident our new websites will provide valuable information to a broad range of people, from dairy industry executives and traders down the supply chain, to farmers who are keen to keep up with developing world and national trends.