Westpac is a major banking institution in New Zealand. With a trans-tasman history dating back to 1817, it is known as one of the "Top 4" banks. With 150 year old New Zealand operations now serving well over a million customers, Westpac is ranked the second largest bank in New Zealand. In 1997, Westpac New Zealand launched its first website, with online banking launched in 2000. Come 2012, they launched a fresh new website with SilverStripe, based on the SilverStripe CMS and Framework.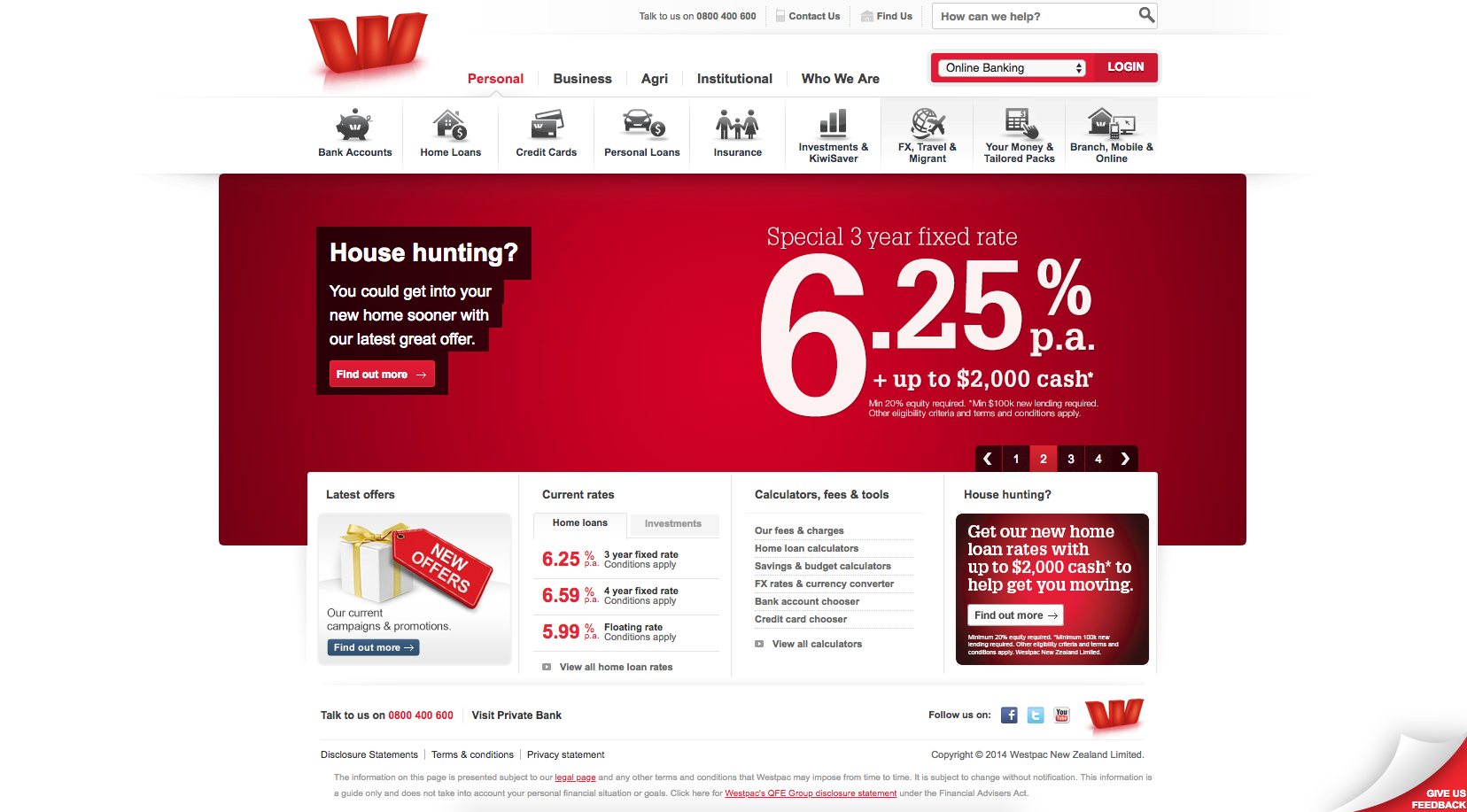 Featured
Dec, 2015
Site purpose
The new website needed to clearly align with an evolving Westpac brand; a modern and knowledgeable bank that people could trust with all financial matters, that are innovative and have customers at heart.
With their new website, Westpac New Zealand wanted to be a leader in the Australasian banking marketplace and provide their customers with an outstanding banking experience online.
The website needed a modern and clean design
The site should offer a set of tools and calculators that would help people to get organised financially with their credit cards, home loans and investments.
The whole information architecture of the website needed to be reviewed to guarantee an optimal user flow while navigating the website.
All copy needed to be rewritten in a new tone of voice.
Westpac was looking to replace their former internal platform, with an easy to use and clean backend/CMS that enables a simple process for updating content.
The hardware and involved hosting stack should get refreshed to maintain a fast running and safe website.
A variety of suppliers and teams had to work together in order to deliver the project.
Different technical platforms had to get integrated to provide the best services available for the visitors of the Westpac website.
What we did
The website structure got reviewed and the site then completely rebuilt by SilverStripe on the SilverStripe CMS using new, modern designs.
The SilverStripe CMS makes the complex navigation system easy to manage. Content editors can now manage and edit the navigation and all other content such as widgets and applications through the back end. SilverStripe enabled Westpac to set up different site administrators and content authors with different levels of access to the backend depending on internal processes and legal requirements.
SilverStripe also built the 'Bank Account Chooser' which helps clients to decide on the right sort of account and credit card for them. The application is extremely complex, as each question depends on previously given answers, and some may not be asked at all, depending on the individual client's needs and circumstances. The paths and dependencies between the questions, as well as the suggested options, can be edited in the CMS, so there is no need for developers to get involved if Westpac wants to change a rule for a bank account or add a new type of account or credit card.
SilverStripe integrated several systems within the back end and led the project well by ensuring all partners would be involved and delivering their parts on time.
Challenges
Coordinating the work with all third party providers was a big challenge. There were many dependencies that had to be considered.
Not all designs had been completed when the implementation process was supposed to start, which made it difficult to get the whole picture before starting the actual implementation work.
SilverStripe manages projects in an agile way, whereas Westpac uses waterfall. Waterfall management requires long time planning, whereas agile involves short term sprint planning. As we went into the project, we had to work out a compromise between these different approaches to project management.
The Westpac product stakeholders made sure that we always had all the product information we needed, including all new web copy. SilverStripe showed their progress in weekly demonstrations to ensure everyone involved knew the status of the work at all times.
Measures of success
The unique visits on the site went up by 30% after the launch, which indicates a higher interest in site usage. The user engagement increased as well. Areas such as the calculators saw a 50% increase in time spent with the applications.
Internal Westpac staff members commented positively on how easy the new site is to use. And they have had great feedback directly from customers as well.
For SilverStripe, the project was a big success. By running the project in an agile way, the company was able to demonstrate new features every week to the client. Westpac was able to test the new features immediately after completion to ensure that they were happy with the development.
The client had ongoing transparency on work progress, which built a lot of trust between SilverStripe and Westpac.
SilverStripe were an integral part of the team that launched our new market-leading website westpac.co.nz. Their expertise, assistance and flexibility were invaluable from an early planning stage, through a rapid build, and now during ongoing maintenance and monitoring. They truly are at the top of their game.
In the Press
Six-Insights-Into-One-of-NZs-Biggest-Website-Upgrades.pdf
Marketing Magazine, Sep-Oct 2012
Work

Web Development
SilverStripe Platform